One of my favorite aspects of attending an auction preview is trying to imagine the interior that a console, a table, or an armchair will fill. I have noticed that some auction houses like to stage little vignettes in the showroom so that the furniture doesn't look like a random collection of objects but helps the buyer envision it in their own home. Another trend, I first saw this done about five years ago in the Perry Street Towers designed by Richard Meier, is design galleries furnishing apartments in brand-new luxury condominiums. Most recently  the gallery
Magen H XX Century Design
brought a nice collection of French mid-century design to architect Neil Denari's HL23 in New York's Chelsea neighborhood.
Now Rago Auctions in Lambertville, NJ, has taken an apartment in the magnificent Apthorp building on the Upper West Side of New York and turned it into a by-appointment-only preview for their Early 20th Century and Modern auctions which are coming up this weekend, February 25th and 26th. I must say that I prefer what Rago has done with the place so much more than interior designer to the rich and famous Stephen Sills, who is the Apthrop's Creative Director. Below are some of my favorite pieces from the auction.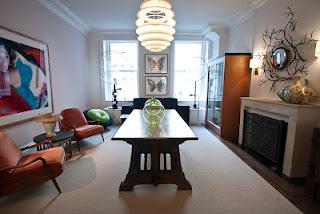 PHIL POWELL Pair of Red New Hope chairs, early 1960s (Lot 782) and a HERVE VAN DER STRAETEN
Bull's Eye mirror, 1990s (Lot 887) hangs on the opposite side.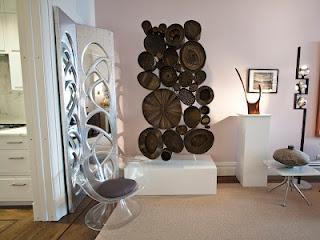 An Important PAUL EVANS STUDIO steel wall-hanging sculpture,  1965 (Lot 750)
with PHIL POWELL silver-leafed three-panel screens, 1960s (Lot 783)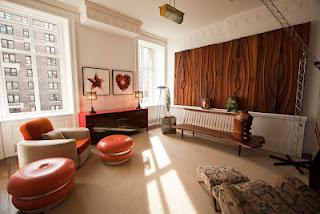 PHIL POWELL Set of four sculpted walnut bi-fold doors (late 1970s-early 1980s) (Lot 780) leans against the wall with a GEORGE NAKASHIMA Conoid Bench, 1975 (Lot 804) right underneath it.  A GENE SHERER
Sculptural jewelry case, "Chest of Drawers," with eleven drawers, 1987 (Lot 978) sits on top of the Conoid Bench.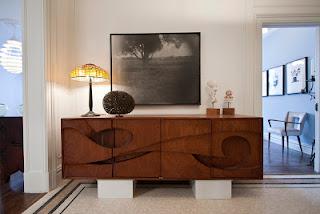 MICHAEL COFFEY "Swahili" wall hanging cabinet, 1972/2005 (Lot 953)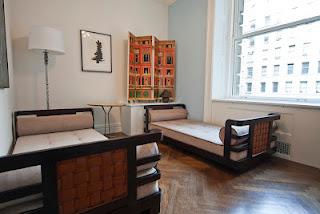 A pair of ANDRE SORNAY Daybeds, 1940s (Lot 894) with a PIERO FORNASETTI
Four-panel room-dividing screen on casters, "Pompeiana," 1950s (Lot 1114)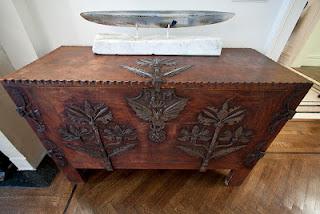 Thrown into the mix is a F.A. RAWLENCE
Exceptional English Arts & Crafts cabinet, monogrammed P M, ca. 1900 from Rago's Early 20th Century Auction (Lot 134) which is occurring the same weekend.
All images courtesy of Will Femia.
For more information on the auction visit
Rago Arts+ Auction.