I've now lived here with my love since September 2012 and sadly we will be leaving in August this year (due to J's visa stint ending), but I know in my heart that we will one day return to this beautiful city – whether it is to live or just for a holiday. Though I will always hold this city in a special place in my heart, because for a lot of reasons it does feel like home.
Anyway, I'm getting carried away…I wanted to let you in on a secret, well not much of one, because if you were to ask me I'd blurt it out, I wanted to tell you about my favorite local places and businesses that have made me feel at home and of course like a local. Just in case you ever visit Edinburgh. Most of my favorite places are based on the south side of the city, due to having moved to Bruntsfield when we first arrived and because now we're living in Marchmont. Well the most important one of all is a coffee shop where you can get your morning coffee on the way to work, especially if you're a coffee addict and/or you are Australian/New Zealand, because we like our coffee and we know our stuff. I don't care who knows, I am a coffee snob. So for coffee; it was the first place I went to where not only I could taste the coffee without burning my tongue instantly, but actually enjoy it, and often leaving me to go back for a second cup, was Castello Coffee Co.A wee coffee shop on Castle Street (handy since I worked just around the corner), where you can enjoy friendly banter with the lovely bearded baristas*, eat locally made cakes, homemade sandwiches and soups and where they handle the morning rush hour like pro's. And of course you can enjoy delicious Allpress coffee, made to perfection. And if you buy a keep cup and re-use it, the owner Sandro will knock 10 pence off the price.Follow them on Instagram to keep up to date on what the soup of the day is. For some me time; If you're a woman, then you have needs, beauty needs of course, especially if you have been traveling prior to coming here, you'll probably need a wax or manicure or something along those lines. The first beauticians that I found after first getting here was Frenchy's Beauty Boutique on Bruntsfield Place; and I've kept going there, I have even spoiled myself with a couple of back massages (which were so lovely and relaxing). The thing with me is, I'm a one beautician, one hairdresser type of girl, because I like them knowing what I like and its sometimes like going to a therapist and Vicky (the owner), Hayley and Nicole made me feel welcome straight away. To see what treatments they do or to get prices, check out their website www.frenchysbeautyboutique.co.ukand follow them on Facebook. Or if you've just arrived, then call them on 01312288333 to get taken care of straight away.Now for the best hairdresser in town; Inspire Hair & Beauty Salons – located just down the road on Bruntsfield Place. I found this lovely salon six months after I arrived and my hair was a mane, since it had not been cut for that long. I was desperate and not just for a haircut, but to find a place in Edinburgh, which would just give me just that, a haircut. They wouldn't try to sell me products or suggest that a few blonde streaks would give my (natural) hair color the extra tinge, because I like my hair the way it is. And I needed someone who understood that, so low and behold Eileen, the manager at Inspire. You are welcomed, offered tea and your hair is washed, cut and blow-dried or steamed*. All while you're enjoying a great conversation with Eileen. To let my hair down;my hands down favorite pub in Edinburgh is the Golf Tavern, and not just because it is only down the road from my house, though that is a great reason, but they cover the main activities that you need at a local; beer (very important factor), sport on TV, live music, pub quizzes, movie nights and in summer you can rent out golf clubs and play golf on Bruntsfield Links. I think the best time to go and have a pint, is definitely on a Friday night when they have a local live band. I've had a few great couple of drunken nights there. Keep up to date on their website; for themed nights, meal deals and what's playing on Movie Mondays. Then for maybe a more relaxing happy hour; I go down the road every so often to the Earl of Marchmont; because they serve these delicious £5.50 cocktails. It's a smaller pub, and give a more, cosy ambience. And man those gin cocktails are good. The Gin Bramble (chambord, gin and fresh lemon) is especially delicious.For a girly chat or gossip;or to catch-up with girlfriends or to go an write and have some time out by myself I go to Lovecrumbs, in West Port and right next to the 'pubic triangle*.' It is cakes galore here and it is one of the top places to come for cake and tea in Edinburgh, trust me I included it on my list of top patisseries in Edinburgh for www.wow247.co.uk. My favorite cakes have to be any of their peanut butter batches or something with lavender or rose in the ingredients. You can follow the Lady Bakers on Instagram (@hellolovecrumbs) for the latest on what they're baking.To do a pub quiz; I go to one at Auld Hoose, on St. Leonards Street, a pub quiz that's been running for 10 years. Our friends and J and I attend as 'Quizasaurus Rex,' and we've never won a round. Usually, we get a top score for the music round, but that's not much of a team effort, more the effort of one of my friends who is musically gifted. And Auld Hoose makes the best nachos in Edinburgh, big enough for three people to devour.Now where to shop; because I love books, I love Analogue Books, not only do they stock Frankie Magazine (my fave Australian magazine) but they have lead me to find my favorite European magazine; the lovely Lula Magazine. They are also full to the brim of inspiring zines. You can follow the bookshop on Twitter(@analoguebooks), quite handy if they have any authors guest speaking.One of my other favorite places not far away, on Victoria Street is the Red Door Gallery, full of beautifully designed and handcrafted gifts, jewellery, prints and cards. You can also shop on their online store. Another gift shop I like to go to is Paper Tiger, for cards, notebooks and all sorts on Lothian Road, not far away from Princes Street.For flowers; if you're a lucky woman who does receive the odd bunch for special occasions or because he has done something wrong, then Rose & Ammion Gillespie Crescent is a great place to get a pot of gorgeous flowers or a bunch. I loved walking passed there fascinated by all the teeny pots of forget-me-nots that eventually my hints got through, and I got a pot for my birthday*.Now for the best Indian in Edinburgh; go to Tuk Tuk: Indian Street Food, on Leven Street. I went there just a couple of days after they had just opened the restaurant and I have enjoyed it every time I've been since. The young owners and staff have made Indian food trendy and cool. The floor plan itself has a cool, rustic warehouse vibe and the food is just awesome. The idea is to order two to four dishes per person, similar to if you were to have tapas, and get a taste of a few different curries. For Sunday brunch; either Freemans, handily located just around the corner from me, on Spottiswoode Road. My favorite has to be the 'avocado on toast,' something that is very hard to come by in the UK for a breakfast option. And it's seasoned oh so well. Then there is Project Coffee on Bruntsfield place for a big breakfast, for those days where you're probably wearing your sunglasses*, when it's not even that sunny out. We usually get the 'project' breakfast; which include Scotland's most popular speciality; haggis. They also do freshly squeezed OJ. To market I go; to the Stockbridge Market, mainly because I like to go there to eat. There is a stall where you can buy the most al dente homemade basil and pesto pasta. And we never leave without a jar of marinated garlic from the Olive Stall. For some fresh air; I love going for walks up Blackford Hill, we usually go with our flatmates – it is almost a flat tradition – as we usually go for a walk up there most Sundays together. It's a great place to take in the whole city; with seeing sights as far away as…well I don't know what those mountains in the distance are, but they are majestic never the less, especially when they are snow-capped.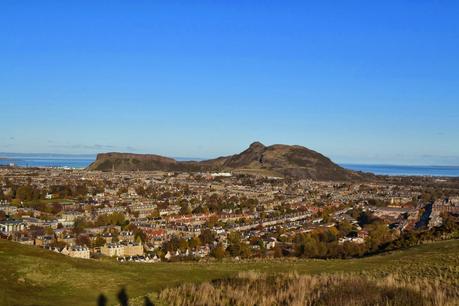 The views from Blackford Hill on a picturesque Sunday morning walk.

That doesn't conclude my favorite places in Edinburgh; but it highlights the top-of-the-top places that I have I found and loved instantly and made me feel at home here. I hope you enjoy them as well. I'd love to know what your favorite local haunts as well...
*Not all of them have beards, only because they just hired a beard-friendly lady, though she makes up for it in awesomeness and she obviously has a beard in spirit.
* New to me, but getting my hair 'steamed' was so much kinder to my locks than getting it straightened.
* If anyone gives you directions to the 'pubic triangle' - they are referring to the place in West Port, where three strippers meet, and in the road in the center resembles just that. 
*Sadly my beautiful flowers didn't last me long, not because I forgot to water them by I 'forget-me-not' to take them off our window ledge and the horrible Edinburgh winds blew them three floors down.
*You're wearing your sunglasses because you have the most heinous hangover that not even Irn-bru can fix; you need eggs and haggis as well.