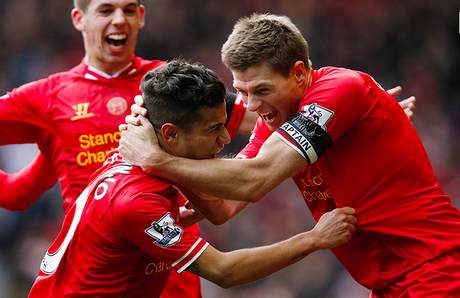 The kindling of belief in Liverpool's title run is one which began in the best way possible. With Rodgers at the helm, this season's Liverpool players have been pushed to be versatile, able to play in various positions, in any formation. The continuous tinkering of formation by Rodgers has shown its results: a 3-0 win with a 4-3-3 at Manchester United, 4-0 against Everton and 5-1 against Arsenal playing with a 4-2-3-1, and now the 3-2 win over Manchester City with the midfield diamond 4-4-2. With that latest victory over Manchester City, Liverpool now have the fate of the Premier League title in their hands.
Earlier in the season, as Liverpool were rampantly eviscerating teams in free-flowing style with high-scoring matches, the possibility of a title run briefly came into my thoughts. It seemed reasonable that a team playing, scoring, and winning with that much ease deserves a title run, however I quickly came to the conclusion that they lacked the squad depth necessary in order to do so. With an already patchy defence, Liverpool's reliance on Suarez and Sturridge is evident seeing as they are the only two strikers who have scored for the club this season. Considering that the starting eleven for Liverpool are rarely rotated, the over-dependence on these players can not only lead to fatigue and injuries, but also stagnation and predictability.
By pushing his side to be adaptable, Rodgers has managed to avoid these problems of predictability while strengthening and broadening the attacking possibilities of his team. This growth is also seen on an individual level, with Raheem Sterling's performance against Manchester City highlighting a shining example of brilliant versatility. Previously only considered as a fast-running winger, Sterling has now become one of, if not even England's finest playmaker. Rodgers is a master of individually moulding his players. He has modified Gerrard's role into one of deep-lying and key importance while giving Henderson the space to blossom, and has helped Coutinho acclimatize into the Premier League with frightful speed. If you further consider the monumental man-management work required to transform Suarez into the loved goal-machine he now is, and to control the young and tempestuous Sturridge, Rodgers has revolutionized Liverpool and its players.
It definitely feels like Liverpool deserves this season's Premier League title. Recognition for one of Steven Gerrard's best season's yet, respect for Rodgers and his coaching of intoxicatingly exciting football, and a tribute in memory of the 25th anniversary of Hillsborough. Yet the way things are poised, this season's heartwarming story is precarious with Mourinho's Chelsea still to beat. The Portuguese coach is hunting for silverware to crown his returned season as a success. While Norwich awaits Liverpool next weekend, the true test for Rodgers and his team will be against one of the most cunning and ruthless managers in the world. And if there's one man willing to shatter Liverpool's title dreams for his own, it is undoubtedly Jose Mourinho.