It's been three years since I last saw Warpaint and at the time they played in Birmingham Academy's second room to a decent sized crowd, but one that was utterly dwarfed by last night's turn out.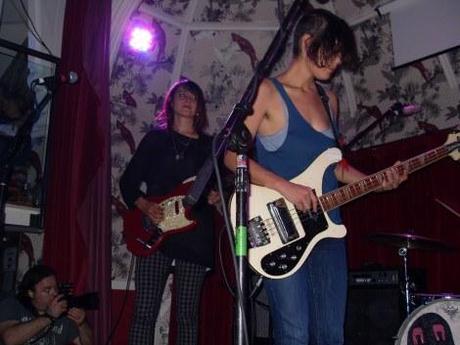 slightmalecoyote.blogspot.com
That's testament to how this LA-band have grown in popularity, despite last releasing music way back in 2010 with their debut album The Fool.
Pins, a four-piece girl band who encapsulate the tenacity and grittiness of the likes of Patti Smith, early PJ Harvey and Alison Mosshart, provided support in their hometown. Check out our feature here.
You don't often hear the witch comparison nowadays but after their 2009 EP Exquisite Corpse it was often banded about by lazy music journalists hoping to capitalise on an angle created simply because they're a girl band. I personally never agreed with it but as they took to the stage their presence was so powerfully mysterious and so exotically enchanting that suddenly the witch similes, to an extent, made sense.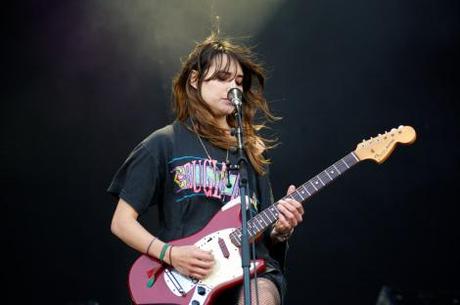 fuckyeahtheresawayman.tumblr.com
The first song was a brand new one titled 'Keep It Healthy' and although Theresa Wayman ditched her guitar for keys, something she did a number of times throughout the gig, it had a distinctively Warpaint feel. It was one of four new tracks to feature in the set list, though we'll come to that soon.
'Composure', propped up by the thunderous percussion of Stella Mozgawa got the crowd going for the first time but it was 'Love Is To Die' that provided the biggest highlight of the night. Whilst new songs usually tend to come and go via obvious disinterest and chattering, this new track, released the night before, was so incredibly well-received by the audience.
Stop-start, searing, gloomy and atmospheric guitars, echoey backing vocals all again help to create a song that could only ever have been created by this band, but they've managed to make it sound fresh. Instead of merely blending in with the rest of the songs performed last night it stood out, proudly toe-to-toe with some of their strongest and most popular releases. It really is necessary listening and promises much ahead of their upcoming self-titled album on January 10.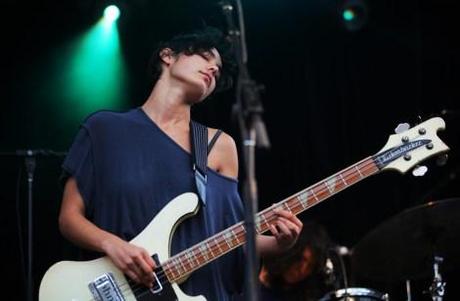 lanewayfestival.boudist.com
Whilst the band still enjoy indulging in prog-like extensions of songs that take you in a million different directions on a million different journeys, they've notably honed it down, mostly because they now have more songs to fill up their set-list. When they do take you on a journey through time and space you get the distinct impression that even they don't really know where they're going to end up or how they're going to end up there. Stella's sheer power behind the drums mixed with Jenny Lee Lindberg's bass lines give the tracks a real danceable driving force whilst Theresa and Emily intricately weave in and out of soundscapes with abandon.
The encore consisted of 'Baby', performed poignantly by a stand-alone Emily and was rounded up aptly by 'Elephants', the song taken off Exquisite Corpse that catapulted the band into certain sections of the public's subconsciousness.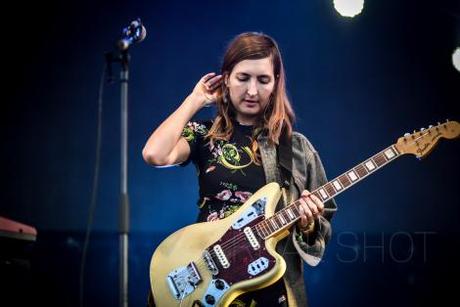 arealshot.com
Three years since I last Warpaint and whilst their new songs are tangible proof that there has been genuine progression, the most refreshing aspect of last night's performance was that the same spark and cohesiveness so obviously remain. We'll judge their upcoming album when January comes around but this is a band who have both immeasurable talent and a pact-like gang mentality that doesn't look like taking a hit anytime soon.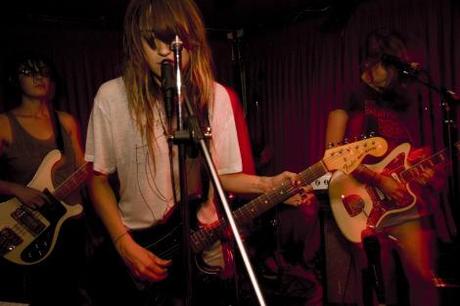 blog.iso50.com