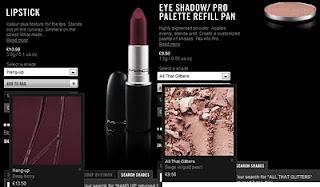 Hi guy! So where i live we have a big shopping center or mall for some people, its about an hours drive from where i live called the Trafford Centre. I absolutely love it there it has everything especially MAC!. My favourite place the go i could spend all day in there and come out with no money at all! 
So seen as ive seen around the "
vampy
" lip i thought i would go pick myself up a new lipstick as mine are pinks and nudes. I know i will probably get looks for wearing this but im in love! i am not afraid to be out there with my make up i would much prefer it over fashion as make up is my passion.
Now to the lipstick! It's called
Hang-up
i had never really heard of this lipstick till yesterday! it is a deep berry color where as on my lip it looks in different lights it appears sometimes to be more red or others to be more purple. i think it is a true must have for the vampy lip! 
Also i just picked up one of the most well known eye shadows for my palette "
all that glitters
" i had looked at this numerous of time and just thought "meh nothing special" so i must of been in the mood to like it so i just decided to pick it up and add it to my collection!  i really do like though i must say! ive under estermated it in the past!
Thanks! (: