The Little Face of Venture competition 2014 is currently underway and your little one could just be the winner! If you haven't heard of Venture Photography before, here's what they say… "

At Venture we capture your precious moments in time and beautifully present them in our stunning hand-crafted product. Our innovative photoshoots, exceptional photography quality and first class customer service continues to redefine family photography, creating lasting memories for generations to come."

Their studios are all across the UK, USA and Hong Kong with a network of 250 professional photographers so you know you will be getting excellent service as well as excellent photographs.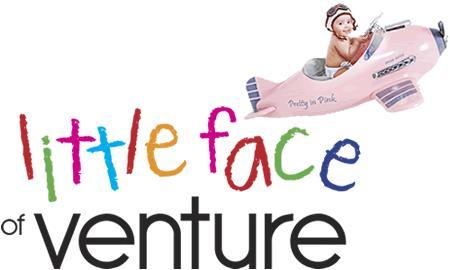 They host a competition called 'Little Face of Venture' where one winner will win 
a fantastic one year professional modelling contract with top agency 

MOT Models

, during which MOT will promote and market the winner for an array of modelling assignments. The winner will also receive a year's supply of shoes courtesy of 

Start-rite and an amazing prize fr

om 

LEGO. How amazing is that?! 
What's more is that for every child that enters, £1 will be donated to Wellchild from Venture, so just taking part will mean a lot.
To enter, all you have to do is 
purchase a full family photography voucher and enjoy your Venture Photography experience. Your Photographer will choose the best photo of your little one from those shown at your private cinematic viewing, and the studio will upload it here on the Little Face of Venture website. Then it's up to you to get all your friends, family and anyone who knows you, to come to the website and vote! Entries close on 23rd May 2014 and voting closes at midnight on 6th June 2014. To find our more details, visit the website. 

I think it's such a great competition, even if you don't win you will have some amazing family photographs for memories and are doing your bit to help sick children and families across the UK. Let me know if you're going to enter and good luck if you do! :)