Cold-weather is setting in and with its arrival comes the annual releases, like this Little Book Chapter 5 "The Invitation". Headed up by Freddie Noe, this whiskey has quickly become an anticipated yearly release. Not just because it's usually pretty good, not just because it gets some good marketing, but because we're all curious what Freddie has concocted and what whiskeys he's been playing with.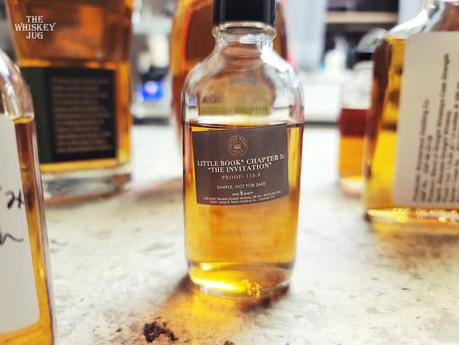 This year's release plays with young whiskeys and age as a theme, as well as some malted rye whiskey. The playing of young whiskey with old whiskey reminds me of early High West and has me, once again, thinking about what's happened to them over the years.
It's fantastic to see folks like Freddie and the crew at Barrell picking up the torch and running with what High West started (well, restarted), but I can't help feel a bit sad for HW and their missed opportunity to still be the dominating voice in blended American Whiskey. Though it does make me happy that Barrell and Freddie are both doing an amazing job.
And on that high note, let's get to dirnkin' and see what The Invitation is all about.
Little Book Chapter 5 "The Invitation" Blend
2-year Kentucky Straight Bourbon Whiskey
3 year Kentucky Straight Malted Rye Whiskey
5-year Kentucky Straight Bourbon Whiskey
15-year Kentucky Straight Bourbon Whiskey
---
Little Book Chapter 5 – Details and Tasting Notes
Whiskey Details
Style: American (Blended)
Region: Kentucky, USA
Distiller: Jim Beam
Mash Bill: Corn, Rye, Malted Rye, Malted Barley
Cask: New Charred Oak
Age: NAS (2 Years)
ABV: 58.4%
Cask Strength | Non-Chill Filtered | Natural Color
Batch: 5 – The Invitation
Price: $125*
Related Whiskey
Little Book Chapter 1 "The Easy"
Little Book Chapter 2 "Noe Simple Task"
Little Book Chapter 4 "Lessons Honored"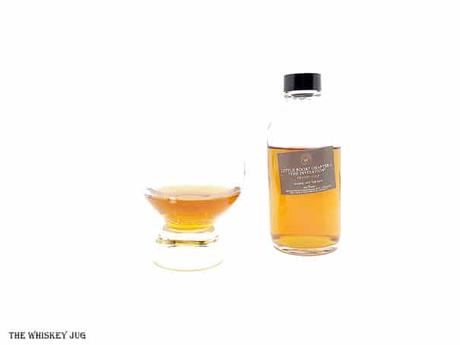 "Little Book Chapter 5 is a blend of four different liquid streams with a vast range of ages, flavors and distillation styles." – Jim Beam
Little Book Chapter 5 Tasting Notes
EYE
Amber
NOSE
Coppery herbal, caramel, hay, honied graham cracker, touch of olde candy, overripe fruit and peanuts.
I feel a similarity in delivery to Book 1, but this is a bit darker. More peanuts and copper as it opens/with water.
PALATE
Oak, copper, caramel icing, herbal spice, leather, hazelnuts, peanut brittle and bits of overripe fruit, vanilla candy and leather.
A bit dry and tannic on its delivery, but everything about what's delivered is nice.
FINISH
Long -> Herbal spice, caramel, oak all fade
BALANCE, BODY and FEEL
Well balanced, full body, with a heavy, slightly dry-tannic feel.
---
Little Book Chapter 5 – Overall Thoughts and Score
Water helps knock down the tannins a bit and opens up more of the darkly sweet and underlying earthy notes, so if you're having a touch of trouble with this one try a bit of water, it helps. Setting that aside, the overall profile is very nice. It's like an X-mas cake with a thin layer of caramel frosting and some vanilla whipped cream on the side… and some oak. There's a lot of oak here.
The depth, complexity and overall level of oak in this whiskey makes me think there's a significant amount of the 15 yo bourbon in here. Though as we've seen with Booker's, you can get a ton of oak in bourbon sitting around the 6 year mark. It all depends on where it's pulled from in the rick house, so who knows. Freddie obviously does, but you know what I mean.
All-in-all, I'm enjoying Little Book Chapter 5 "The Invitation" more than any of the releases since the Book 1 and is tied for the best in the series so far. The overall profile of being warm, darkly sweet and oak driven, that lovely sweet-meets-rustic essence, is perfect for this time of year.
SCORE: 4/5 (very good, highly recommended – B+ | 87-89)
*Disclosure: The sample for this whiskey review was graciously sent to me by the company without obligation. The views, opinions, and tasting notes are 100% my own.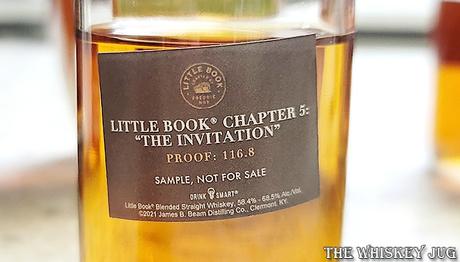 Little Book Chapter 5 "The Invitation" Review
$125
Summary
Sweet meets rustic in the perfect fall/winter combo. This is fireplace/campfire whiskey that can only be made better with the addition of friends to share it with.
Overall
4
Nose

(4)

Palate

(4)

Finish

(4)

BBF

(4)
Sending
User Review
0

(

0

votes)
Comments Rating
0

(

0

reviews)