Due to a very busy rest of the month, I am going to re-blog a few posts from my old blog.  Some of you were reading me back then and may remember some of the posts I will share.  I thought I would start with the review I did of this book, "Someone At a Distance" by Dorothy Whipple.  Since reading this one, I have also read, "High Wages"…again, thoroughly enjoying the Whipple experience.
Here it is: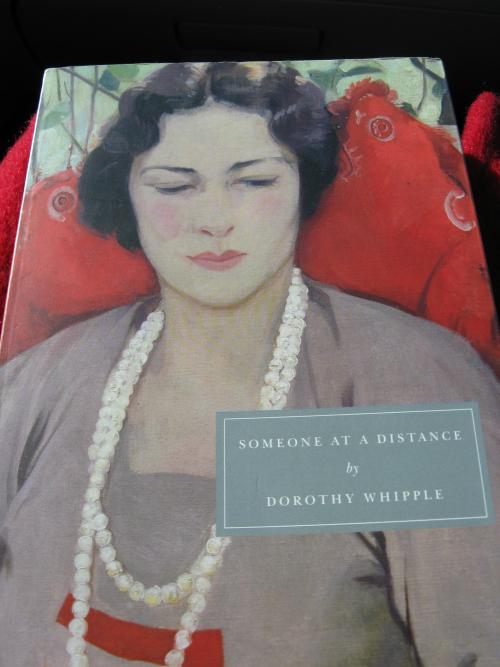 Honestly, I don't know if what I am about to share can be considered a true, blue book review.  There are many great "book blogs" out there that you can refer to if you want a complex telling of a fabulous tale–cross-sectioning of characters; the explaining of hidden plots; symbolism, etc. etc.  I am just going to tell you about a wonderful (sublime, really)  book by an amazingly talented, prose-friendly author.  I haven't had this much fun reading since I discovered Jane Austen or Gene Stratton-Porter.  In fact, I am SO thankful to have found her because she has helped me to appreciate that I have not lost my love of reading novels.  I have been truly longing to get lost in "another world" for quite some time.  Not only did I get lost in Dorothy Whipple's novel, I don't think any sort of GPS would've helped me out of it had it not ended on its own.
From the first chapter I was entranced.  I was there.  I was feeling the characters more acutely than I can remember doing in a book.  As the story unfolded, I had a slight nervous or anxious feeling in my stomach.  It was the feeling you get when there is impending disaster about to hit but you are powerless to stop it or to help…yet you keep watching hoping that those affected are going to be OK.
The plot itself is nothing new:  Seemingly happy couple with two beautiful children are living in domesticated bliss until the stranger shows up.  Then everything, and I mean everything, changes.  Ellen, the wife, is so innocent and friendly (sugar-coated naivete–you just want to shake her) she doesn't realize until too late what she has allowed to transpire.  Avery, the husband, has had an easy life since birth–doted on by a mother, doted on by a wife, idolized by his daughter–and he is so insipid and uninspired that he is ripe and ready to be the slaughter victim.  And Louise.  One of the most vile, manipulative, narcissistic women to leap from the page–but she's French so I almost forgave her for it–meaning she is also very chic, very careful about her appearance and knows how to use her feminine wiles to their best advantage.  But I still wanted to slap her.  These three dance an awkward tango until the inevitable happens and alters all their lives.
What is amazing to me about the story telling is how even minor characters make such an impact–whether by one sentence or one-act.  I was never left asking or wondering why this character or that one needed to be part of the story.  They all had a purpose no matter how small the role.  Life is like that, isn't it?  We all have our main characters that steal the show, but there are always the quiet, sideliners who round out the play, giving it more substance.
Being this was my first Dorothy Whipple, I was so impressed with the way she expresses thoughts and emotions…or sets a scene.  For example:
Regarding Louise moving into her room…"She opened drawers and cupboards, surveying the places she would fill with her things, taking possession.
Gradually, the French scent stole under her door, faintly permeating the atmosphere, changing it, establishing her presence."  Simple but ominous, non?
Or I loved this when Ellen went to visit her dear, older friend:
"Ellen waved a hand to Mrs. Brockington over by the far windows and Mrs. Brockington took off her glasses to be ready.  She waited smilingly while Ellen and Anne spoke to Mrs. Vereson, then to one and then to another.  The old ladies were like gentle briars in the path to Mrs. Brockington:  you had to disentangle them very carefully, in case you hurt, not yourself, but them."  Beautiful.
OK, one more:
"It went dark.  Rain scratched at the windows.  She added a boiled egg to the belated tea, to make one meal do for two.  She had joined the great army of solitary women who have boiled eggs at night, the women without men."  Do you see why I got lost?
Overall, I would give this book 9 out of 10 stars (not sure why I am using the 10 star and not 5 star rating system).  It would have been a 10 except for the ending.  It's not a bad ending–so don't let that dissuade you from reading it.   It's an open ending.  I didn't need full closure on the ending but the way it was left open insinuated an outcome I wouldn't have liked to have seen.  Others may feel differently.
Another great bonus in reading this particular copy of "Someone at a Distance" is that it also introduced me to Persephone Classics publishers.  The book jacket explains:  "Persephone Books reprints forgotten twentieth century novels, short stories, cookery books and memoirs by (mostly) women writers.  They appeal to the discerning  reader who prefers books that are neither too literary nor too commercial, and are guaranteed to be readable, thought-provoking and impossible to forget."  Guess who is going to be a busy girl?
As for Dorothy–I will be buying anything I can get my hands on by her.  She will take her place permanently on my bookshelves for classics–proudly placed in the company of Austen, Gaskell and  the Brontes.
I hope you will discover Dorothy Whipple for yourself.
~~Heather~~