Hey world – Britain has some exciting news for you .
We may be currently slow-clapping our Winter Olympic hopefuls who are finishing far away from respectable medal positions in Sochi (honestly, we would take a shameful fucking bronze at this point) but we don't need snow trophies to boost our nation's ego, let's just look at the fine musical talent that we're currently producing – talent such as Young Fathers.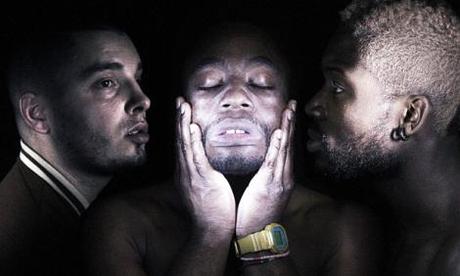 The so-coined 'alternative hip-hop band' hailing from Edinburgh have recently released their debut album 'Dead' after gaining notoriety across the UK with their initial two EPs. The term 'alternative hip-hop' really does seem like a simplification of the group's sound, who combine soulful R&B style hooks, shamanic chanting and hushed whisper-rap lines to create something that's a trip-hop-hybrid, a more rough and ready Massive Attack or a British TV On The Radio.
The debut single 'Get Up' is a fine place to start, with it's distorted bass, wailing vocals and lyrical references to CITV favourite Aquila. The single however, is just touching the surface of what the album is offering and what this outfit could be capable of.
Check out the video below and forget the Sochi snow shambles.