I've put off, in one way or another, writing this post for close to two weeks.
I've waited for that magical morning I actually have 'time to think', when I can stare dreamily out my front window at the conifers swaying lazily in the sunshine. But the fact is, that morning only happens, in the best of circumstances, once a month.
More typically, I'm thinking about writing as I'm piling up muffin crumbs on the floor, coaxing someone, for the ninetieth time, to just use the damned potty, for God's sake, or sneaking in an important phone call while there's another adult human around to run interference.
I've been busy. A little overwhelmed. And I expect things to remain this way for the next few months.
But, like a wad of gunk in stuck inside the elbow of a sink, I need to clear out this jam so I can move forward.
As you remember, I was a bit worried about my stage debut at the Listen to Your Mother Show. I attempted to transform myself from Marisa Tomei's character in My Cousin Vinny to a pastier, slightly more spry version of Maya Angelou. Didn't work.
I was reading a piece about my grandmother's passing, and I questioned the decision, literally, until the moment I took the stage. I wasn't comfortable talking about something (or someone) so close to me, much less on a microphone whose speaker was aimed directly at my family. It was too much for me. I sat backstage, with my head in my hands, asking myself repeatedly, 'Why didn't I write something funny?!'
I can say, in as short and sweet a manner as I can muster, that being involved in this experience, this show, has changed me, and at a deeper level than I'm accustomed to discussing with my paisans.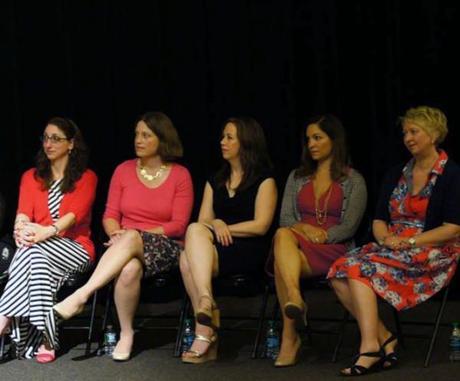 (Jen Cowart, Lori Istok, Claire Nicogossian, Anika Denise, Daphnee Rentfrow Photo Credit: Anika Denise)
What I will say is, when I stood up at the podium and read my piece (without looking directly at my family, of course), any fear I harbored melted clean away. I had grown trusting of the crowd, who had been dutiful enough to laugh at the right times, and frown at others. Enthusiastic family members' eyes twinkled up at their loved ones on the stage. The immediate feedback my fellow cast members received during their readings was assurance enough for me that I was in the right place at the right time.
When I took the stage, it no longer mattered how many seats were filled, what I wrote, what I wore, how bad my accent was or wasn't, or what the audience's reactions would be.
The simple act of reading my own words aloud healed me in places I never knew were broken, while quietly building a foundation from which I could begin to grow again. Little pieces inside of me began lining up, as if magnetically attracted, from my first meeting with the cast, culminating in an unforgettable and cleansing experience on the stage.
In short, being part of Listen to Your Mother was transformative.
As a result of this show, I found healing, friendship, opportunity, and a strengthened bond with my own family.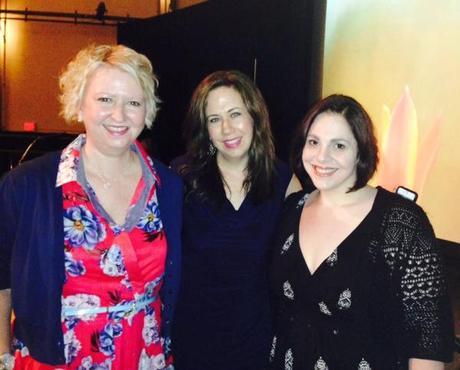 (L-R: Daphnee Rentfrow, Claire Nicogossian, Yours Truly. Photo Credit: Anika Denise)
I've made friends that I hope become a much greater part of my life. The embers of creativity in my heart have been fanned to a full flame, and I'm intent on forging some works of art in this fire (when the kids allow me, of course).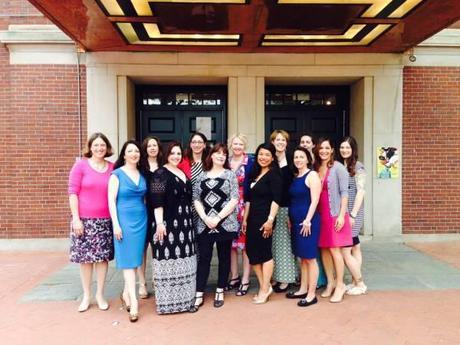 But the best part is, I'm not looking wistfully back on our experience together. I'm looking enthusiastically ahead, asking, "What's next?" which is the single greatest gift I could have received.
The video of all our readings will be available this summer. At that time, I will post a link to the videos. Special thanks, of course, to our fearless producer, Carla Molina, and she from whom Listen to Your Mother has been borne, Ann Imig. To learn more, visit Listen to Your Mother.