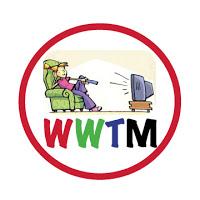 THE ANSWER TO MONDAY'S TRIVIA QUESTION: Jane Fonda, Lily Tomlin and Dabney Coleman all starred in 9 to 5 together. Jane and Lily are currently starring in Grace & Frankie on Netflix and Dabney Coleman's last gig was on Boardwalk Empire.


Not too many of you guys knew this one. Hope you all get better through the week. I've spent a lot of time on this theme. 


 
FIRST FIVE: Mike O'Dea, Bobby Aguilera, Dave DeSocio, Daniel Block & Elke Raskob HONORABLE MENTION: J

im Carter

THE NUMBERS

  Friday's Broadcast Top 5 Dateline-NBC 1.1/4.8 20/20-ABC 1.0/4.2 What Would You Do? - 1.0/4.0 Shark Tank-.9/4.1 America's Got Talent-NBC 
Friday's Cable Top 5
Shark Clans-Discovery .9/2.1
Sharks of the Shadowland-Discovery .9/2.1
American Dad-Adult Swim .6/1.6
Super Predator-Discovery .6/1.6
The Cleveland Show-Adult Swim .6/1.5
Friday's Top 5 Primetime Twitter Ratings

Uncommon Sense-MTV2 6,000 Tweets

Sharks of the Shadowland-Discovery 5,000 Tweets

Shark Clans-Discovery 5,000 Tweets

Conan-TBS 5,000 Tweets

Sex with Brody-E! 2,000 Tweets 


Sunday's Broadcast Top 5


Celebrity Family Feud-ABC 2.1/8.6




Big Brother-CBS 1.9/5.8




BattleBots-ABC 1.3/4.1




American Ninja Warrior-NBC 1.1/3.7




America's Funniest Home Videos-ABC .9/4.9




Sunday's Cable Top 5
NA
Sunday's Top 5 Nielsen Twitter Ratings
Basketball Wives-VH1 101,000 Tweets
2015 Miss USA Pageant-Reelz 70,000 Tweets (See this one!!!)

Love & Hip Hop-VH1 58,000 Tweets

2015 MTV Fandom Awards-30,000 Tweets

True Detective-HBO 23,000 Tweets 


Top 5 DVR'ed Show for the Week of 6/22/15-6/28/15

True Detective-HBO From a 1.3 to a 2.1 (+62%)

Duck Dynasty-A&E From a .9 to a 1.7 +(89%)

Rizzoli & Isles-TNT From a .6 to a 1.3 (+117%)

Deadliest Catch-Discovery From a 1.0 to a 1.6 (+60)

Alaskan Bush People-Discovery From a 1.0 to a 1.6 (+60%)

THE SHOWS



I went to see Lip Sync Battle live in Central Park last night. I was a bit disappointed when I read that for this huge event the battle was between Derek and Julianne Hough. I thought Spike would bring out the A-Listers for this "very special" episode. Julianne and Derek had battled before and they were great, but I was hoping for Justin Timberlake and Jimmy Fallon to go at it. Can you imagine how awesome that would have been? Once I accepted that they weren't showing up, I embraced the experience and had a great time. Julianne and Derek were both really fun and really good and I had a blast. I weaseled my way to the front for most of the performance and got a hug from Chrissy and LL and some very large security guard who I made insane all night. I spoke to the President of Spike, Kevin Kay, and told him about my microphone issue. He was very nice and told me I'm not the first person to complain about this and that he'd let the producers know. SURE HE WILL! My pic's aren't that great but thought I'd share anyway.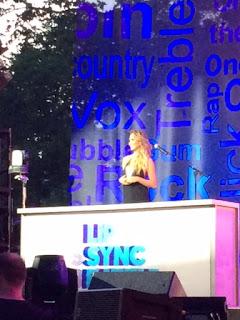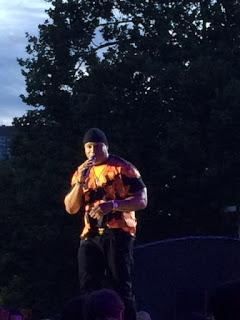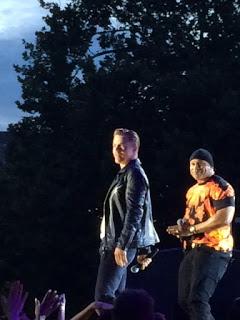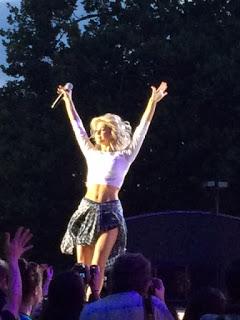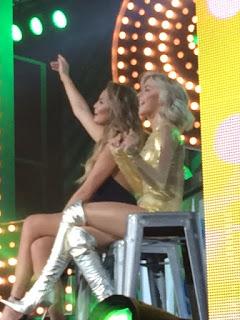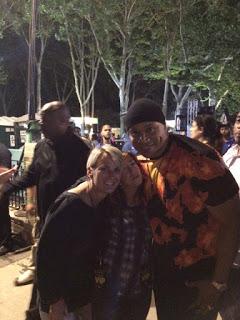 THE OTHER STUFF
-I'm sure Kyle and the other housewives are just thrilled that Lisa Vanderpump's Bravo spin off was just renewed for a 4th season. The rich just keep getting richer, even the richest housewives. 
-I have no idea who Michelle Collins is. I had to Google her and that didn't help at all, I still have no idea who she is other than Rosie Perez's replacement on The View. Have I been under a rock? Please tell me I'm not the only one who didn't know who she was. 
Tuesday's Trivia Question: Where are they now week continues. Today's movie is True Romance. Christian Slater, Patricia Arquette & Conchata Ferrel. Name the TV Shows they star in now.