I've loved makeup as long as I can remember. One of my favorite childhood memories was trying on every color in the rainbow (she had tons of makeup) at my cousin Laura's vanity. My lipstick/lip color collection is a bit crazy. I don't shy away from bright colors on my lips, in fact a bright lip is part of my every day makeup. In the summer I gravitate toward more sheer color. My makeup is lighter and I never go for heavy color when it's beach and BBQ time. I've gotten questions from readers on finding sheer lip color. The challenges lie in finding a lip color that doesn't feel too heavy, isn't color saturated and is easy to apply (no lip liner or mirror needed). I thought I'd share a few of my favorites with you. They are in all price points and come in lots of colors.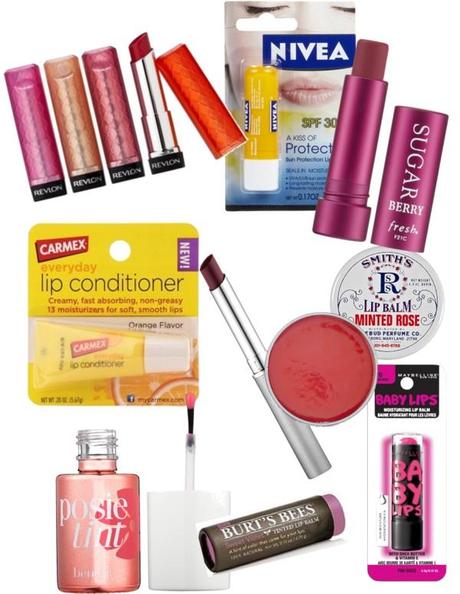 Click the photos for buying information.
My favorites include balms, stains, and tints. Revlon Colorburst Lip Butter has only be out about a year. It's a great product that allows you to wear very sheer color if you wish, or build it up for more solid look. It feels like a balm and comes in tons of colors. Nivea  Kiss of Protection stays in my beach bag all summer. I love the way it feels and the SPF 30. Fresh Sugar Lip Balm is super silky smooth and comes in lots of colors. It's a bit pricey at $24 but worth it. I've kept Rosebud Salve in my makeup bag for years. This minted version is a new favorite. It is a true balm with only a tiny hint of sheer color. I've used Clinique Almost Lipstick in Black Honey since the 90's. It's highly praised as a universally flattering shade (check out this photo). It looks like a gothic burgundy in the tube but goes on like a pretty sheer mauve to deep red and is buildable. Carmex has been around forever. I love their orange lip conditioner. There isn't any color, it's in an easy to apply tube and it has an orange flavor (like baby aspirin).  Benefit added posie tint to their Benetint line a few years ago. Benetint is a deep red and some people feel it's too dark. Posie Tint is a pale pink stain that you can use on your lips or your cheeks. It lasts most of the day and you can just add clear balm over it. Burt's Bees tinted lip balm comes in pretty colors, it has a nice minty flavor and is super moisturizing. Maybelline's Baby Lips come in a rainbow of colors (sheer to fuchsia). They have great flavors and go on just like you favorite balm. The colors are sheer and great for someone who doesn't love lipstick.
Do you have a favorite non-lipstick color?  Share it with us!
Only a few more days to enter the giveaway from
Skirt the Issue!