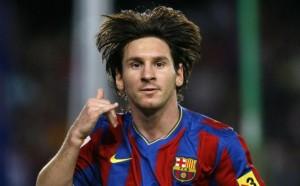 Lionel Messi nets double as Barcelona upstaged Zaragoza
Lionel Messi netted twice and provided a set-up for another goal to as Barcelona kept alive their club-record start by posting a 3-1 convincing victory against Real Zaragoza on Saturday. The victory was Spanish league leaders' eleventh in twelve round.
Barcelona went ahead in the 16th minute of opening faceoff when Lionel Messi stunned the home spectators with his opening goal of the game. The game was leveled just nine minutes later when Paco Montanes netted for opponent side. However, Barcelona re-establish their lead within four minutes as Lionel Messi provided an assist for Alex Song before adding a third goal with full hour mark.
Barcelone toot an excellent start and created an early scoring chance through Messi but unfortunately missed it but the Argentine striker but his side on the scoreboard by slotting a left-footed shot in the 16th minute after receiving Jordi Alba's return pass.
Zaragoza, who had come into the ground with on the back three victories in four games, got the equalizer when Montanes when fired in a loose ball after a corner kick.
The top Spanish side restored their lead just after four minutes as Lionel Messi once again proved his excellent skills, providing a brilliant pass for Song who didn't miss any chance to score his 1st goal for Barcelona since joining from Arsenal. Messi sealed the victory when he curled an persistent long-range strike for his second of the night.
"Leo marks the difference because he's a special player," said Barcelona midfielder Andres Iniesta. "We are used to him doing what he does by now. We hope he keeps it up."
The Argentina forward's latest twofold propelled his goal tally in the competition to 17. His nearest competitor is Real Madrid's Cristiano Ronaldo, who has scored 12 goals in this season of Spanish league.