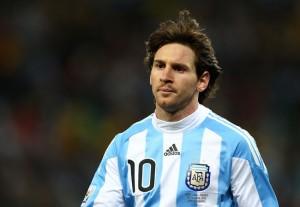 Lionel Messi disappointed of Argentina's poor performance
La Liga star Lionel Messi admitted that he is feeling frustration due to Argentina's poor performance in Wednesday's scoreless draw against Saudi Arabia in Riyadh.
Argentina came into the ground with a strong team including Manchester City top-striker Sergio Aguero, and Angel Di Maria of Real Madrid. However they failed to set-up any pressure to opposite side. They had a golden opportunity to go ahead in 13th minutes of opening faceoff when Di Santo collected a pass from Di Maria cross but headed the ball over the crossbar.
The South Americans found two other descent chances for breaking the deadlock just before half time but couldn't capitalize any opportunity. The 25-year-old Argentina player Lionel Messi said that he got disappointed with the performance of his side.
"We didn't do things like we normally do and it wasn't our best day today," Lionel Messi said in an interview. "I'm disappointed with how things played out for us tonight, but this year was very positive for our national team."
It is to remember that Argentina won many important matches in this year and currently it is leading the South American teams in the qualification race for the World Cup 2014.
"We [Argentina] won important matches this year, Lionel Messi said, "Every match we play is just as important as the others because when you play for Argentina, every match matters."