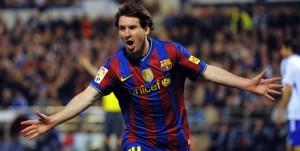 Lionel Messi is among three players qualified for FIFA's world player of the year Award
Barcelona star Lionel Messi, his teammate Andres Iniesta and Real Madrid legend Cristiano Ronaldo are the qualifiers for "FIFA's world player of the year" award.
Lionel Messi has already won the same award in last three years. If the Argentina and Barcelona playmaker would become successful this year also, he would be the first player to win the "FIFA's world player of the year" award four times successively.
There were 23 candidates in the initial nominee's list that was prepared by Seven Spain internationals. The prominent names in that list were English club Manchester City's Mario Balotelli and popular Brazilian forward Neymar. Another important name was Man United's Wayne Rooney, who became the only English player to find a place in the list. Former Arsenal hero Robin van Persie also was a nominee. Persie joined top club Manchester United after being the leading scorer of last Premier League season for Gunners.
Lionel Messi, Cristiano Ronaldo and Andres Iniesta were picked as finalists on the base of their brilliant performances at national and club levels in the current season. The secretary general of FIFA Jerome Valcke said that they had a very strong (Spanish) football system and the list would show the actual strength and popularity of football in the Spain. In Spain, football is not only very strong at club levels but also the national team. He added
In the current year, Lionel Messi won the title of Golden Boot for netting the most goals in last season's domestic leagues of Europe. In this calendar year, the striker had scored 82 goals, now he is just three goals away from Gerd Mueller's record of 85 goals in one year.
Spanish and Real Madrid star Cristiano Ronaldo, who scored a team-leading 46 goals last season, was one of the six candidates from his side in 23-player list. The other names were Sergio Ramos, Iker Casillas, Mesut Oezil, Xabi Alonso and Karim Benzema. Ronaldo had won the "FIFA's world player of the year" in 2008.
The third finalist Iniesta scored 279 goals for Barcelona since 2002 and 77 national goals since 2006. He was designated as Player of the Tournament by the UEFA panel after Spain's conquest in the UEFA Euro 2012.
The former Brazil great Ronaldo expressed his satisfaction on the selection of finalists saying that:
"I think they are perfect picks. There is no doubt these players are among the best, Messi and Ronaldo are really the only ones with a chance of winning, that's how it's been recently."
Will Lionel Messi win the "FIFA's world player of the year" award this year? This is a question that would definitely perturb the fans of 25-year-old but they have to wait until Jan. 7 when the conqueror will be proclaimed in Switzerland.