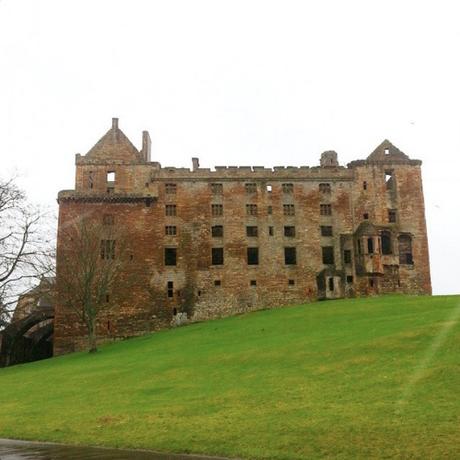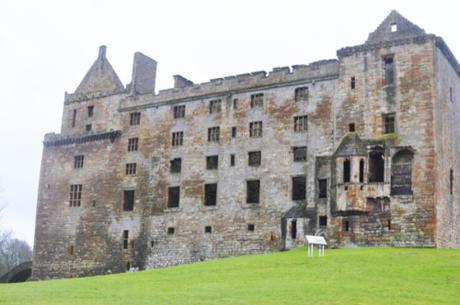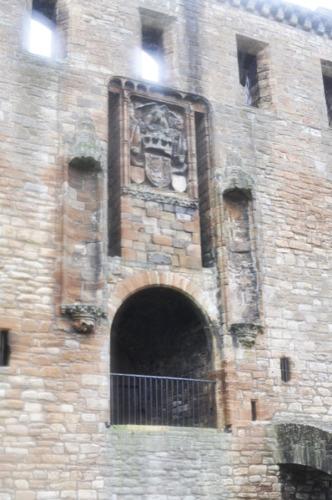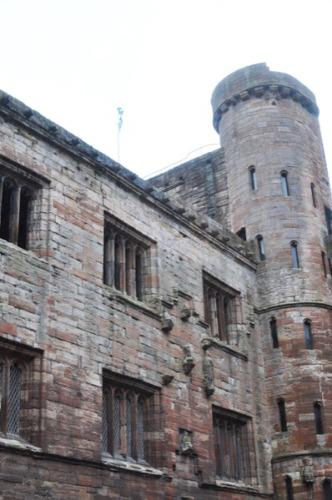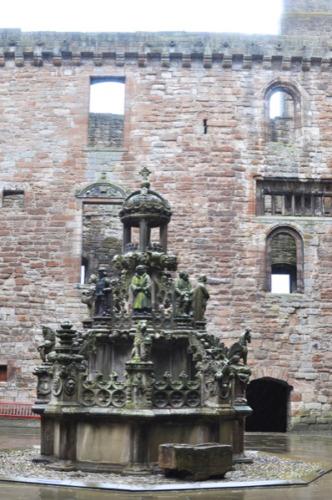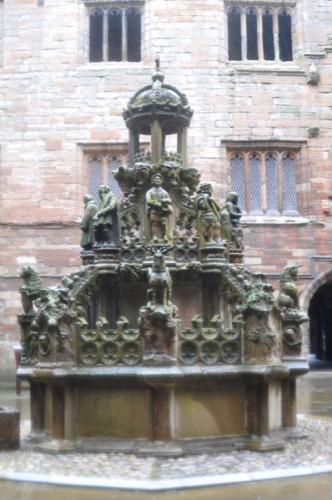 Of all the places that I visited during my recent research trip to Edinburgh, Linlithgow Palace was perhaps the biggest surprise. I went along one rainy morning expecting to find a completely empty shell but instead discovered that there is much more than that left standing of the former pleasure palace of the Stewart Kings of Scotland where both James V and his daughter Mary Queen of Scots were born. Along with all the other Scottish royal residences, it was more or less abandoned after James VI went off to England to claim his throne and was eventually burned out in a fire set, probably deliberately, by the troops of the Duke of Cumberland in 1746.
It's an amazing old structure, standing on a slight prominence above the lake and although it looks rather bleak and forbidding nowadays, it would have been a splendid palace in its heyday when it was a favorite residence of the Stewart Kings and their courts. James IV was particularly fond of Linlithgow and instigated lots of building works in 1500 as part of his preparations for his marriage to Margaret Tudor, daughter of Henry VII and Elizabeth of York. Their son, James V was born there in April 1512 in the splendid Queen's apartments that had been specially renovated and decorated in the most opulent style for Queen Margaret, who had received Linlithgow as part of her dower. According to legend, Margaret waited at Linlithgow for news of her husband after he went off to fight the English at Flooded – there's a little tower at the very top of the palace that is still known as Queen Margaret's Bower and it was here that the Queen is said to have waited every day for his return, gazing out across the landscape in the hopes of seeing his standard approaching. Sadly though, James was killed at Flodden either by the English or, controversially, by his own troops and so she waited in vain.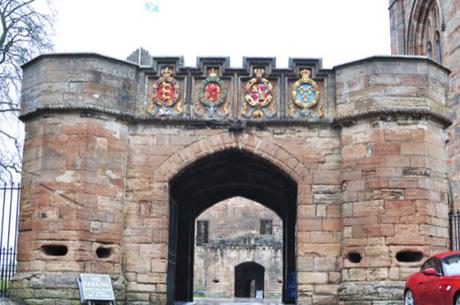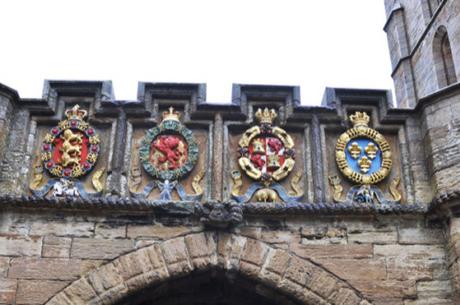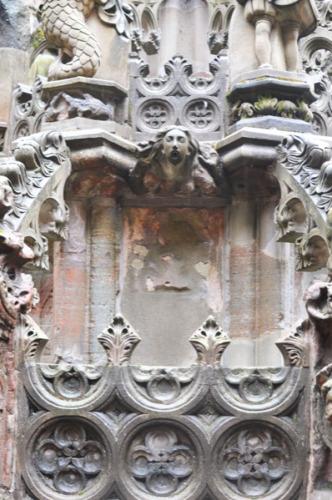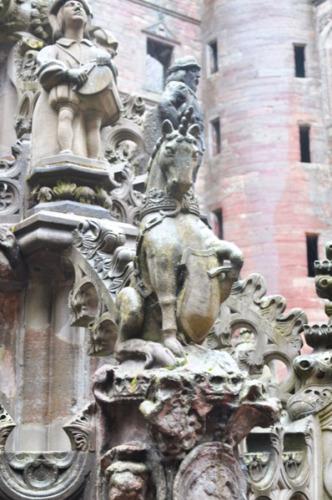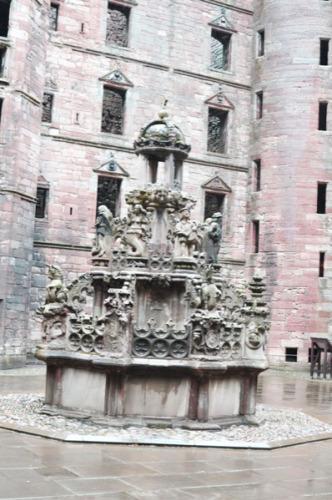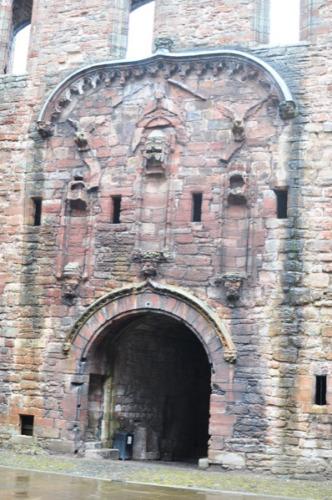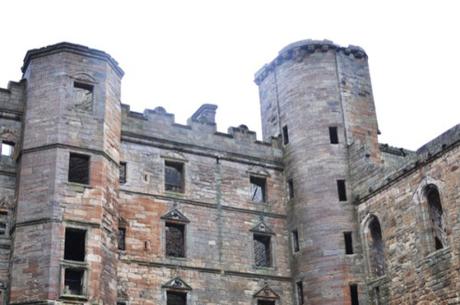 Of course, I was there to research Marie de Guise who spent a lot of time at Linlithgow during her reign and was very fond of the old palace, which she referred to as a 'princely home' and compared to the glorious French châteaux that she had known in her youth. She gave birth to her daughter Mary Queen of Scots there in December 1542 and it was also there that less than a week later she learned of the death of her husband James V. The little Queen Mary lived at Linlithgow for just seven months before her cautious mother whisked her away to the superior safety of Stirling Castle. Mary would return to Linlithgow several times during her brief period of personal reign in the 1560s – she left the palace for the last time on 24 April 1567 and was abducted by Lord Bothwell on her way back to Edinburgh. This didn't end well for either of them.
James VI was also fond of Linlithgow, although his Regent (and uncle) the Earl of Moray was murdered by a sniper on the High Street in 1570 in what was apparently the first firearm assassination in history. Sadly although James enjoyed spending time at Linlithgow with his family, it slipped into disrepair after his departure to England. His daughter, Princess Elizabeth (the future Winter Queen of Bohemia and mother of His Royal Hotness Prince Rupert of the Rhine) resided there with her nursery for a number of years though. James was to return to Linlithgow just once in 1617 when it was renovated along with all the other royal residences in preparation of his visit. The last Stewart King to stay there was Charles I, who spent one night in the old palace in July 1633 during a short visit to his homeland although Bonnie Prince Charlie visited (but didn't stay the night) in September 1745.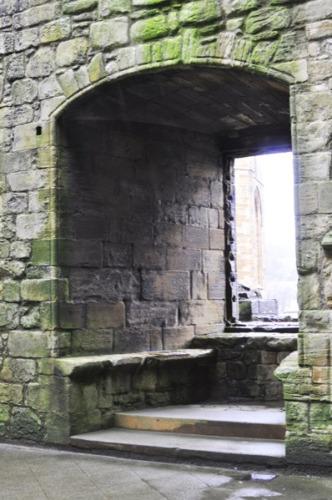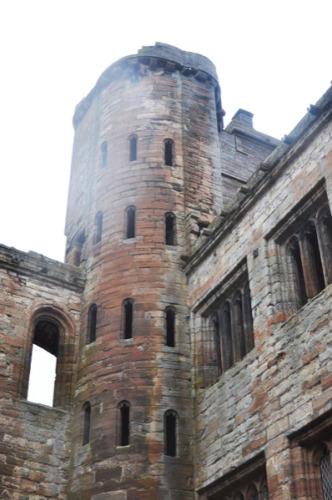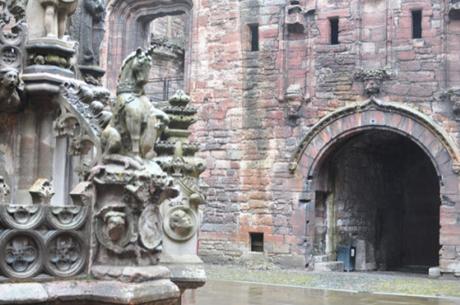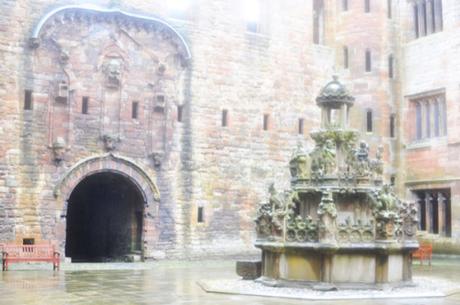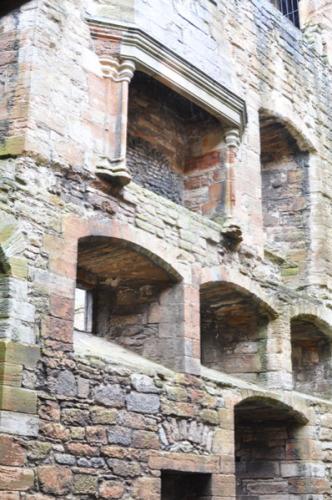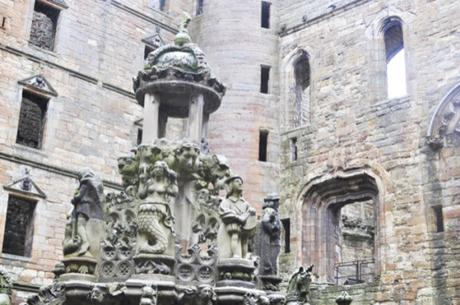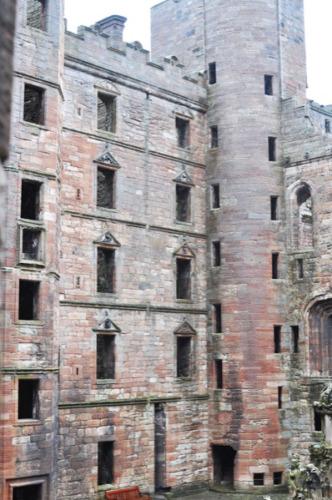 Although it is fundamentally a ruin, you can still climb the stairs and explore the different storeys of the palace which still bear plenty of marks of their glorious past when this was an incredibly luxuriously appointed royal residence and bustling with courtiers and servants, who thronged together in the beautiful rooms. I had a wonderful time clambering up the winding staircases and exploring the former royal apartments where you can still fragments of carvings, lovely old fireplaces (some set high up in the walls because the floors have gone from the different storeys), elegant windows and all sorts of brilliant nooks and crannies. Naturally, I was keen to see where Mary Queen of Scots was born but unfortunately it is known for sure which room this happened in as there are a few contenders and one of them has vanished completely! I stood for a moment on the site of one of the possibles – a room in the north west corner directly above the King's bedchamber. It has a lovely view out across the loch and despite the pouring rain and the gloomy skies, I felt really quite moved to be there even if it wasn't actually the right room at all!
Another lovely feature of Linlithgow is the amazingly elaborate fountain that stands in the central courtyard, which is covered in fantastical figures and heraldic creatures. It's not in use but the sound of the heavy rain that cursed my visit gave a sense of what it must have sounded like in full flow when all the court would gather around it to enjoy the spectacle.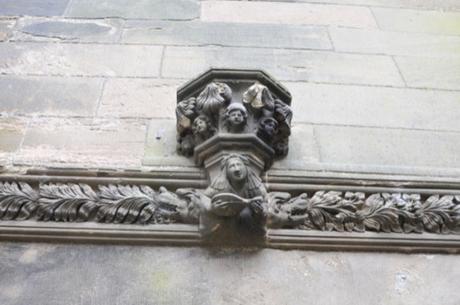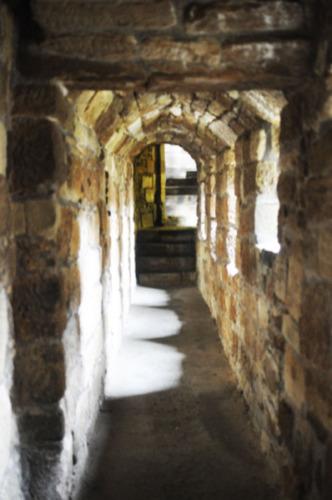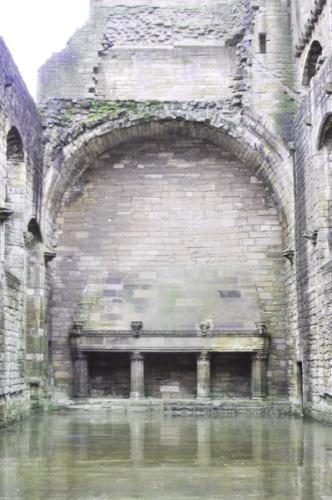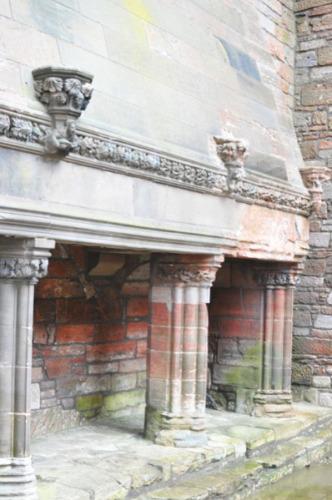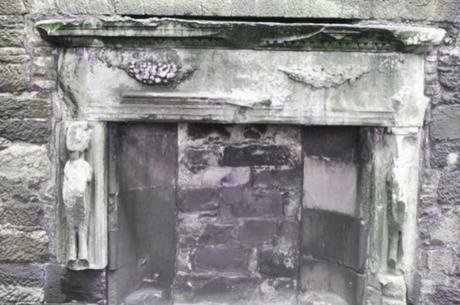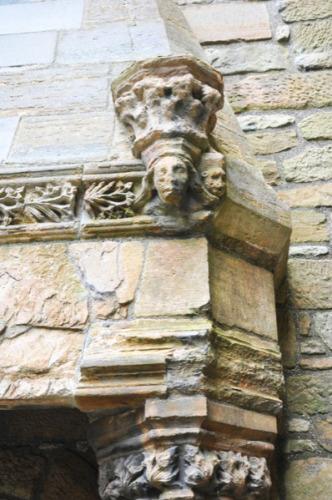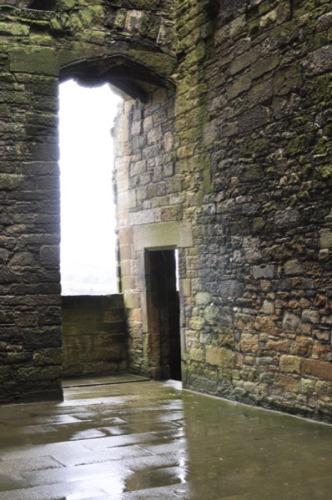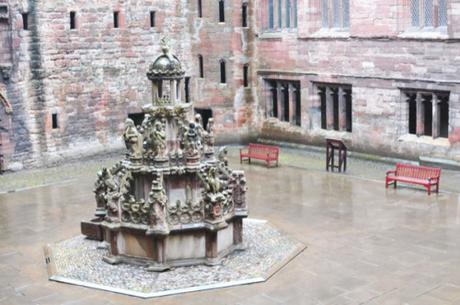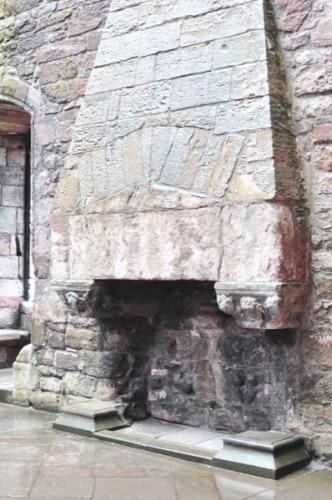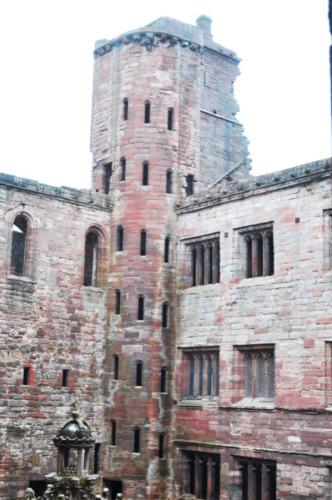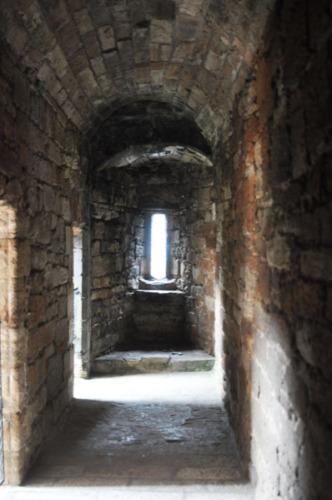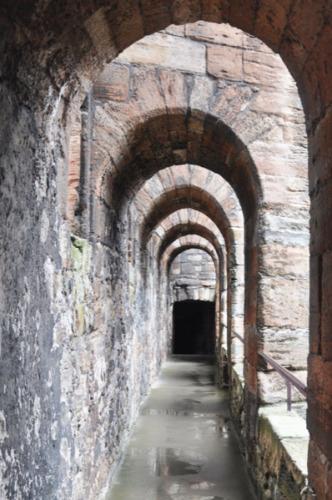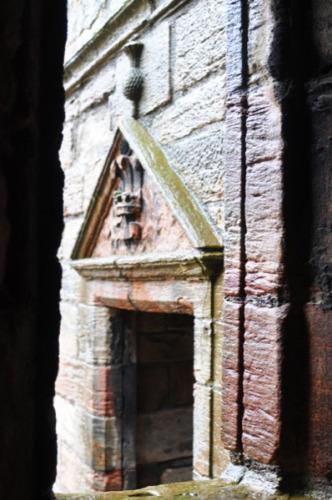 If you're staying in Edinburgh then Linlithgow Palace is definitely well worth a visit as it's just a short train ride away from the city and much more impressive than it would appear from just a quick glance!
******
I don't have adverts or anything like that on my blog and rely on book sales to keep it all going and help pay for the cool stuff that I feature on here so I'd like to say THANK YOU SO MUCH to everyone who buys even just one copy because you are helping keeping this blog alive and supporting a starving author while I churn out more books about posh doom and woe in the past! Thanks!
As the youngest daughter of the Empress Maria Theresa of Austria, Marie Antoinette was born into a world of almost unbelievable privilege and power. As wife of Louis XVI of France she was first feted and adored and then universally hated as tales of her dissipated lifestyle and extravagance pulled the already discredited monarchy into a maelstrom of revolution, disaster and tragedy. Marie Antoinette: An Intimate History is now available from Amazon US and Amazon UK
Set against the infamous Jack the Ripper murders of autumn 1888 and based on the author's own family history, From Whitechapel is a dark and sumptuous tale of bittersweet love, friendship, loss and redemption and is available NOW from Amazon UK
, Amazon US and Burning Eye.
'Frothy, light hearted, gorgeous. The perfect summer read.' Minette, my young adult novel of 17th century posh doom and intrigue is available from Amazon UK
and Amazon US and is CHEAP AS CHIPS as we like to say in dear old Blighty.
Follow me on Instagram.