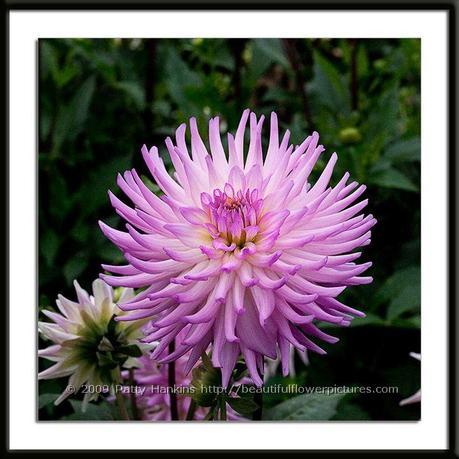 Taratahi Lilac Dahlia (c) 2009 Patty Hankins
Here are some posts and articles that I enjoyed this week; I hope you enjoy them as well
Flower and Plant Links
Native Plants & Wildlife Gardens has Milkweed for Monarchs
National Park and National Wildlife Refuge Links
National Parks Traveler has Could National Park Service's Plans For Corporate Licensing Agreements Exploit The Parks?, Great Smoky Mountains National Park To Implement Backcountry Fee In February, Civil War Battlefields Gain Ground With New Grants, Interior Secretary Orders National Park Service To Better Manage National Mall, Cost To Rebuild Newfound Gap Road In Great Smoky Mountains National Park Could Reach $7 Million and National Park Service Says Looming Sequestration Will Impact Visitors, Shorten Hours Of Operations In Park System
Refuge Watch has New Refuge is Proposed for Tennessee
Wildlife Links
Animal Tracks has Wild! Sperm whales adopt dolphin with deformed spine
New York Times has A Rallying Cry for Naming All Species on Earth and That Cuddly Kitty Is Deadlier Than You Think
Star Tribune has Birds sing louder near noisy traffic
Saratogian has White-nose syndrome spreads to southern bats
The Washington Post has National Zoo orangutans use iPads to amuse themselves
National Parks Traveler has Canadian Parks Advocacy Group Pushing Government For Better Marine Stewardship
Mother Jones has Butterflies Booking It North as Climate Warms
Environmental Issues Links
Mother Jones has Why Greenland's Melting Could Be the Biggest Climate Disaster of All
Eco Times has U.S. Gas Flaring Visible from Space as Fracking Industry Booms
Mother Jones has Humans Have Already Set in Motion 69 Feet of Sea Level Rise
Photography and Art Links
Dan Williams Bird Bird Photography has What's Really Important…, Pulling Back and Taking It In, Composition and Light and Do We Really Need All of the New Gear?
Curious Eggs has Extremely Rare Color Photography of Early 1900s Paris
The National Archives has Teddy Roosevelt and Abraham Lincoln in the same photo
The Copyright Zone has At the Bottom of the Slippery Slope
Photo District News has Infringement Claim Fails Because Law Protects Expression, Not Ideas
Michael E. Gordon Photography has 10,000 Hours
The New York Times has Caribbean Nation Gets an International Go-Ahead to Break U.S. Copyright Laws
io9 has A Moonrise Unlike Any You've Ever Seen
DC Area Flower Safari
If you are in the DC area, I hope you will join me and other flower lovers at our DC Flower Safari Meetups. The next Meetup is scheduled for Sunday, February 10th at Longwood Gardens in Bethesda,MD. The Orchid Extravaganza at Longwood Gardens is always amazing. It's one of my favorite times of the year to visit Longwood.
Info is at http://www.longwoodgardens.org/OrchidExtravaganza.html
Plan for this meetup is to meet at 6:30 AM at the Grosvenor Metro Station. Then we can carpool to Longwood. It takes just over 2 hours to get there. My suggestion would be that we plan on photographing in the Conservatory in the morning – then meet for lunch at 11:30 in the restaurant. After that – depending on what people what to do – either keep shooting – or head on back.
Garden admission is $18. You can purchase a ticket online at or you can get one when we get there. I doubt there will be problems getting tickets at the door on a Sunday morning for Orchid Extravaganza. But if you want to make sure you get one – go ahead and purchase a an entry ticket for 9 AM on Feb 10.