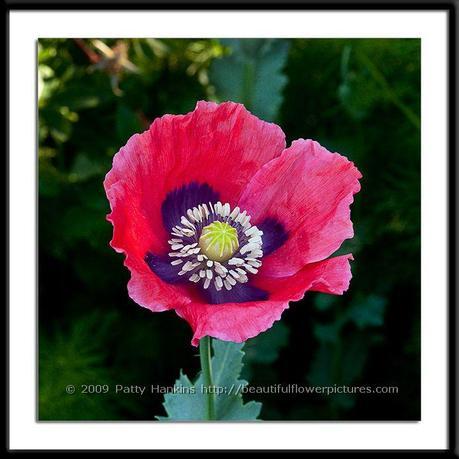 Bread Poppy (c) 2009 Patty Hankins
Here are some posts and articles that I enjoyed this week; I hope you enjoy them as well
Flower and Plant Links
National Geographics has Earliest Blooms Recorded in U.S. Due to Global Warming
Biological Diversity has Endangered California Plant Gains 9,600 Acres of Protected Habitat
Beautiful Wildlife Gardens has Fall in Love with Native Plants
National Park and National Wildlife Refuge Links
National Parks Traveler has Fifteen Years Of Searching For Life In Great Smoky Mountains National Park To Be Celebrated In March, Traveler's View: National Park Service Shouldn't Contribute To Technological Disconnect With Nature and Poll Shows Westerners Want Protections For Public Lands, Frown on Fossil Fuels, Nuclear
Wildlife Links
Take Part has Why California Is in Desperate Need of Bees
The Christian Science Monitor has Palm oil casualty? 14 pygmy elephants fall prey to pesticides in Borneo
Photography and Art Links
Dreamscapes has Snowy Egrets
American Bar Association has A Few Observations on Copyright and Art
Wired Pen has How Buzzfeed infringes on copyright and TOS
DC Area Flower Safari
If you are in the DC area, I hope you will join me and other flower lovers at our DC Flower Safari Meetups. The next Meetup is scheduled for Sunday, March 17th at Longwood Gardens in Bethesda,MD. The Orchid Extravaganza at Longwood Gardens is always amazing. It's one of my favorite times of the year to visit Longwood.
Info is at http://www.longwoodgardens.org/OrchidExtravaganza.html
Plan for this meetup is to meet at 6:30 AM at the Grosvenor Metro Station. Then we can carpool to Longwood. It takes just over 2 hours to get there. My suggestion would be that we plan on photographing in the Conservatory in the morning – then meet for lunch at 11:30 in the restaurant. After that – depending on what people what to do – either keep shooting – or head on back.
Garden admission is $18. You can purchase a ticket online at or you can get one when we get there. I doubt there will be problems getting tickets at the door on a Sunday morning for Orchid Extravaganza. But if you want to make sure you get one – go ahead and purchase a an entry ticket for 9 AM on March 17th.