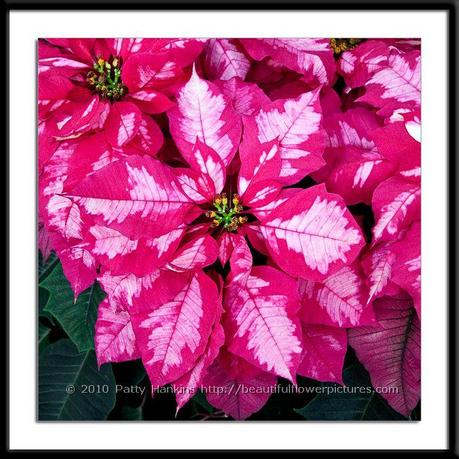 Ice Punch Poinsettia (c) 2010 Patty Hankins
Here are some posts and articles that I enjoyed this week; I hope you enjoy them as well
Flower and Plant Links
Science Daily has Invasive Plant Species May Harm Native Grasslands by Changing Soil Composition
National Park and National Wildlife Refuge Links
National Parks Traveler has Interior: Toppling Off Fiscal Cliff Won't Immediately Impact National Park Operations  and Appalachian Trail Conservancy, Friends Of The Smokies Team Up To Hang Bear Wires In Great Smoky Mountains National Park
Wildlife Links
Huffington Post has Uncollared Florida Panther Seen Moving Kittens In National Wildlife Refuge For First Time Time Ever
The Raw Story has 'Yak insurance' plan saving Nepal's endangered snow leopard
Environmental Issues Links
Sierra Club has MELTDOWN: Arctic sea ice is melting faster than climate models predicted
USGS has Emerging Consensus Shows Climate Change Already Having Major Effects on Ecosystems and Species
Photography and Art Links
George DeWolfe and Lydia Goetze have an article on The Synthesis of Chinese Landscape Painting and Photography at Luminous Landscape.
Art Wolfe has some amazing images in his 2012 Year in Review
The Trichordist has The Return of Orphan Works: Trojan Horse: Orphan Works and the War on Authors by Brad Holland
PDNOnline has Agencies Step Up Copyright Enforcement as Infringers Fight Back
DC Area Flower Safari
If you are in the DC area, I hope you will join me and other flower lovers at our DC Flower Safari Meetups. The next Meetup is scheduled for Sunday, January 6th at my house in Bethesda,MD. This will be a casual get together from 2-5pm. If you've got some favorite flower or garden photos you've taken – please bring no more than 5  and a snack to share with everyone.  I hope to see you there!