You can't imagine my joy when I saw my post about Man Repeller and Japan had been chosen for this Weekly Round Up. I am not as great as Leandra in writing but the fact this particular post was chosen made me want even more to sharpen my writing skills. This week I really enjoyed the submissions I've read because I definitely feel like fashion bloggers pay more and more attention to their writing and are reflecting more and more about blogging and fashion. I invite you to peruse the following links below to discover great content and great bloggers !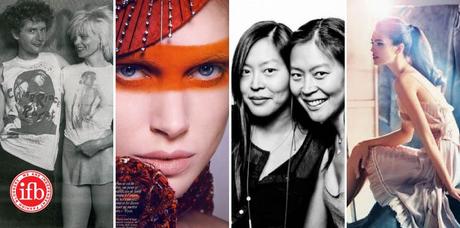 World Click
Does it matter where you blog from? I say this as I've lived in four cities during my blogging career, and to tell the truth, it kind of does, but it also kind of doesn't. This week Style Bizarre asks that question to a few bloggers about their experiences with blogging and location. We also travel around to Australia to check out their MBFW, how Man Repeller got us thinking about Japan (again), about how female politicians across the globe relate to fashion (should they?) and where you can get globally conscious accessories. As always it's a mixed bag, so enjoy!
Links à la Mode: April 18th
Anna Lou Elliott: 3 ways to wear white: for day, night and work

Attire Club: What We Can Learn From Superheroes

Cosmolawitan: Dove: Empowering Women With Its Ad Campaigns

Dressed Up on a Cloudy Day: How to Combine Colors : Analogous Colors

Fashion is Evolution: 4 Tips for Pushing Yourself to Achieve Your Creative Goals

Fashion Moriarty: Are female politicians reduced to what they wear?

Hey Mishka: 5 Globally Conscious Festive Accessories For Summer

HH Designs: Glamping: My Overall Lack of Roughing It...

Modestelle: Mercedes Benz Australia Review 2013-2014

Mis Papelicos: My 6 Easy Steps to Happiness

Nothing to wear: The Rookie Department: Hair Styling For Beginners
Runway to Style: 7 Style Guidelines To Look Your Best at Prom and More

Style Bizarre: Blogging: How important is your location?

The Curatorial: Vale Jewelry: Algorithms and Delicate Jewelry

Undercover Dress Up: Interview with lolita icon Emilka P.

We Are Ready Made: Irreverent Youth

Wild Beauty World: War Paint

Youth Savage: Fashion Blogging vs. the World
SPONSOR:

 Sale @ Shopbop:Timo Weiland

,

Rebel

,

Star Mela

,

Beth Richards

,

 Hunter

,

Voltaire Zadig

,

Mugler

,

Ulla Johnson

,

Jill Stuart

,

Superga

,

 & L'Wren Scott
NEW Instructions for Submitting to Links à la Mode:
1. Read the clarified rules and submit your links on this page: Links à la Mode.2. If your link was selected and you need this week's code, visit this page: Links à la Mode Code.