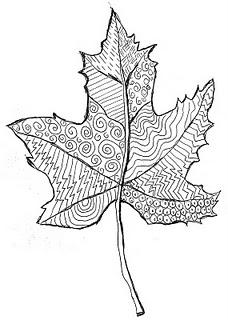 This is a study of patterns that could be simplified for kinder and 1st grade students. I drew my leaf and filled it in, but a large template to trace might help younger students get started.

1. If you make leaf templates from some kind of posterboard, I would make them large enough to fill a 9" x 12" paper. Stems could be left off and just drawn in, to keep things simple. To begin, the students trace the leaf in pencil near the top of the paper.
2. A stem is added at the bottom, and veins are drawn up the center to divide the leaf into many shapes.
3. The students fill in each section of the leaf with a pattern. Challenge them to think of as many different patterns as possible. A black ballpoint pen or a very thin black marker work best.
CA Visual Arts Standard: Kindergarten
2.1 Use lines, shapes/forms, and colors to make patterns.