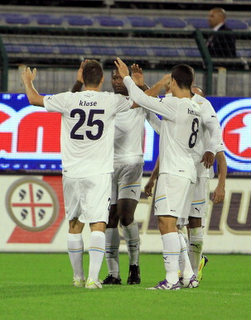 In the past, Lazio have always been lacking the final step to reach the "big" Serie A clubs. While the club has always been competitive under Claudio Lotito's control, they have never managed to push into the highest echelon of Italian football/soccer. Yet this season it seems that Lotito has created the perfect team. With the two brilliant signings of Djibril Cisse and Miroslav Klose, Lazio has now become a side which looks ready to compete for the scudetto.
It has been the former Bayern Munich striker, Klose, who has truly prospered at his new club. His six goals in the Serie A campaign have allowed Lazio to rise into third place, just one point from the top of the table. His latest goal was in this weekend's 3-0 away victory over Cagliari, a well placed diving header. It was Djibril Cisse who provided Klose the perfect cross, and the two forwards have shown fantastic chemistry throughout the entire season.
This weekend's victory was Lazio's fifth of the season, and it maintains their unbeatable away record. While Lazio suffered a loss at home early in the season to Genoa, after that Edy Reja's team has had few problems. A 2-2 draw away against AC Milan, and the 2-1 victory (Klose scoring the late winner in the final minutes) in the Rome derby over Roma show that this team is prepared to compete with the greatest of the Serie A.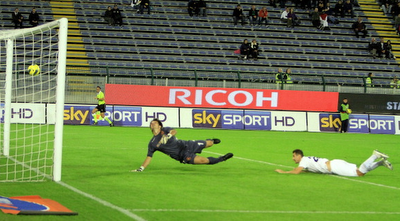 Klose's diving header to make it 2-0 for Lazio away at Cagliari.
Next week Lazio will have to travel to face Napoli in one of the biggest tests of the season. It is important that Reja manages to strengthen his defence, as Napoli's trio of Lavezzi, Hamsik and Cavani have few problems creating goals. Of course, for Lazio we'll see Klose and Cisse up front with the
trequartista
 Hernanes behind them.
It is going to be a massive clash, as both managers are astute tacticians and will have to find ways to shut the other side's forwards down. Yet Klose has shown that it's almost impossible to keep him quiet, as his movement and experience tears through defences. The German has been impeccable in front of goal, and he has propelled Lazio into third place. Whether or not his great scoring form will continue into next week at Napoli's San Paolo stadium, we'll just have to wait and see.
What are your thoughts on Klose's magnificent form in Serie A? Can he lead Lazio to victory over Napoli next week? Can Lazio push for the scudetto? Share your thoughts in the comments below!