I arrived in Lima at lunchtime with instructions on how to get to the host family I would be staying with as part of my two-week Spanish course with 'Peruwayna'; a school based in the Miraflores region of Lima.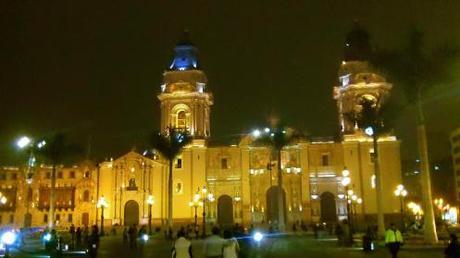 Taking a taxi from the bus station to my host family, which cost around 10 soles, I was welcomed by my new, Peruvian, Dad – or at least for the next two-weeks; Willy. With my knowledge of Spanish being basic at best and Willy having a limited English vocabulary, we did what all men do, shook hands, tried to talk about football and through the gift of some Oscar-winning gestures, I was given the tour and shown to my room – what a lovely house this was and I must admit; it felt rather fantastic to feel like I had one place to stay for two-weeks and call 'home'.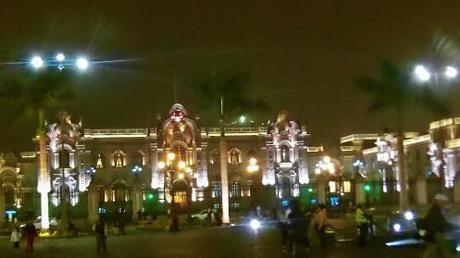 A bit later that afternoon I met the rest of the family; my Peruvian Mum, Sylvia, my Peruvian Sister, Andrea and her husband, my American Brother-in-Law, Michael. What a fantastic family, they made me so welcome and with Willy hitting me with the Spanish right from the off, I was forced to start learning, and I loved it! After a lovely family dinner Michael and Andrea took me out in Miraflores to have a look at where I would be studying and to see a little more of this district of Lima including; Parque Kennedy, El Parque del Amor, the wide variety of cafes, bars, restaurants – pointing out but not venturing down 'Pizza Street' (let's say there is a slight adult undertone down that street) and walking along the coastal road admiring the green coastline of Miraflores – a beautiful part of the City.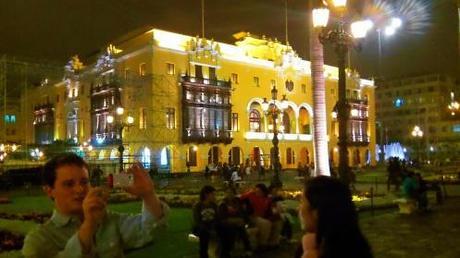 My first day of school! It had been near enough ten years since I had studied in an academic capacity and I was excited to be stepping back into a classroom to learn Spanish. I have mentioned previously that there was a sense of intimidation and disappointment when landing in Santiago to have not made more of an effort to learn the language – seriously now; if you are contemplating visiting South America, take the time to learn Spanish, it will improve, transform and develop your experience in a way that I can't explain and you can't imagine.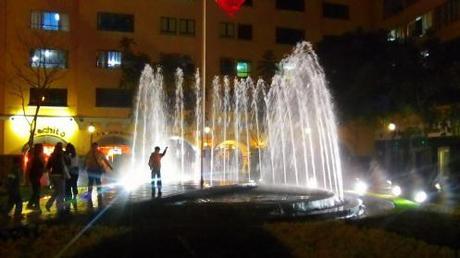 I had selected the Spanish Language school of Peruwayna and as part of the assessment as to which level I was, I had to complete an online questionnaire and answer to ascertain my ability, current knowledge and level. When I arrived on Monday morning, I was greeted by Alejandro, the guy who had also been corresponding with me over e-mail since my initial enquiries. Alejandro was welcoming, charming, jovial and made me feel at ease right from the off. That was including the moment where he gave me a short interview in Spanish – I was going to start as a beginner and with only one other person in my class; 'Masa' the surfing, sushi chef from Japan living in Sydney it was going to be an intense experience and in a very good way.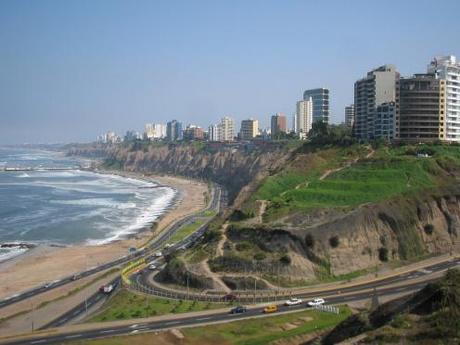 Picture courtesy of Natural History and Travel
We were introduced to our teacher, 'Myra' who was equally as charming as Alejandro and once we were issued with our exercise books, we were off! The pace of the class is always dictated by the students and it appeared that Masa and I were pretty well-matched in the pace we were learning and picking things up, which meant we covered a lot in the four hours of tuition each day. I thought that a really thoughtful touch was the 15 minute break we would have each day where all the teachers, staff and students would have chance to converse, in Spanish and English, thus learning about each other and our own cultures and customs. Alejandro was a particular fountain of knowledge with regards to anything Peruvian, from the food, culture, tradition and modern development; this was equally a lesson in Peru as it was a lesson in Spanish. Even after just three days at school and living with Sylvia and Willy I already felt that my understanding of Spanish was growing and my confidence with it.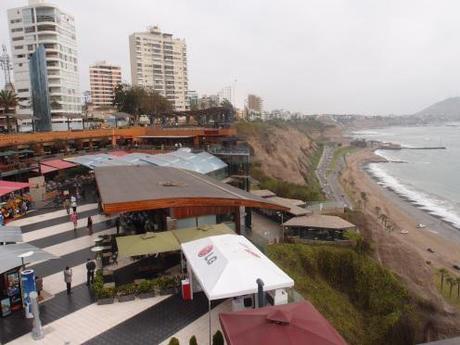 Today was my first experience of the added extras that Peruwayna deliver, and it's not mentioned on the website (at the moment, but it should be). For no extra charge, Alejandro and his teachers take the students out to various districts of the City for something to eat, drink, to practice Spanish and once more; take in some Peruvian culture. Tonight we were being taken to 'Barranco', a popular district with the youth of Peru as it offers a good balance of cultural monuments, historical significance and bars, restaurants, cafes, clubs and other entertainment offerings. It is considered the bohemian district of Lima, housing many musicians, artists, poets and crafts people.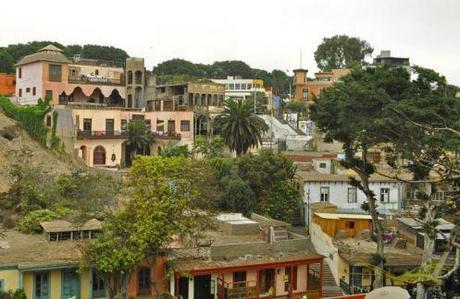 Alejandro had brought us here to sample some traditional Peruvian food and drink. Some of the dishes we tried and/or learned about were; 'Ceviche' which is raw white fish effectively 'cooked' in acid, often lime juice but occasionally in lemon juice, mixed with onion and chillies and served with boiled potatoes – a lovely dish with a bit of a kick. Next on the agenda was 'Anticucho' – cow hearts grilled on a skewer after being marinated in sauces consisting of tomatoes and chillies along with various other fragrant spices. They had a deep, rich flavour and were surprisingly tender. However, I don't think a whole plate of them would be fantastic for the constitution, more of a plate to share I feel. Along with the cow hearts, came a delivery of 'picarones' which are Peruvian doughnuts made from sweet potatoes and served with a generous offering of honey! They were lovely and very moorish! This was a lovely evening spent with the guys and girls who work at the school and our fellow students, a really welcome and surprising addition to the programme developed by Peruwayna.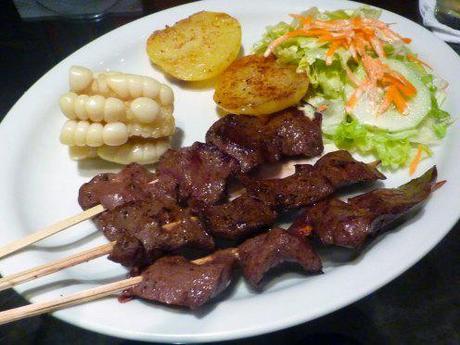 Michael and Andrea had kindly invited me out with them on Friday night, to meet some of their friends and see a little more of Miraflores and Barranco at night. With my classmate, Masa, joining us, we headed for one of the many bars in Miraflores for a drink and to start practicing Spanish and English with the various people there. After a few beers we moved on, getting a taxi to Barranco where I once again indulged in anticuchos before moving on to another bar and continuing with the theme of having a few drinks. It was a lovely night, being able to spend time with local people and learning more of the culture, socially too. My particular highlight was the, let's say; slightly more mature lady, salsa-dancing with the jukebox! I think she may have had a few too many pisco sours!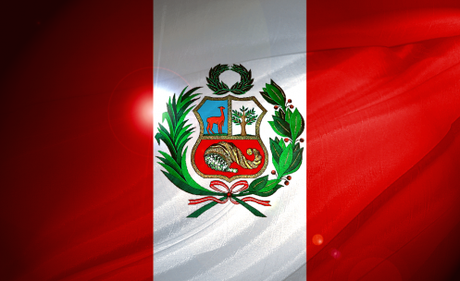 My Spanish was progressing well however it is worth mentioning that the pace at which the lessons go is quick, that's not a bad thing as I mentioned before; it is driven by the students so the classes are beautifully well-tailored. The most important thing is practice! I know that may be a cliché, but it certainly rings true here. Without any sort of practice you won't be able to remember or use what you are learning in class. That is why I would highly recommend a homestay as it not only gives you chance to practice what you've learned in class, but also to push yourself a little further while learning other things, mainly vocabulary, from your host family. (And meeting some great local people too).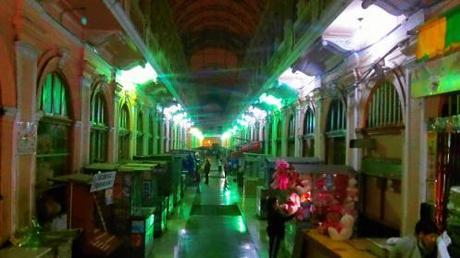 With myself and Masa fast becoming fluent in Spanish…well, perhaps a slight exaggeration, but at the very least we were getting better, it was time to be taken out once more by Alejandro and his team and this time we were going to downtown Lima. To get there, we were going to utilise the relatively new, and rather expensive (yet seemingly efficient) metro system. This system was not like something that we might be used to in Europe when we mention the word 'metro', this was a bus route that was specifically and uniquely, just for buses. The system worked pretty similarly to the Oyster card in London and we were soon on the bus heading for the downtown area.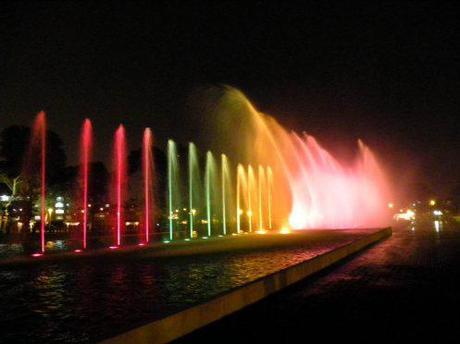 There are quite a few sights to see in the downtown area of Lima and we started with the largest fountain complex in the world; 'The Magic Water Circuit'. It really was an impressive feature, truly huge and as it was lit up at night, it was quite a sight! Onward and we were headed for the main square; The 'Plaza de Armas' with the main feature being the 17th century brass fountain acting as the point of panorama as you look round the square and see the Cathedral, the Archbishopric Palace, the Municipality and the Government Palace.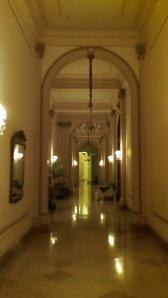 After the quick tour of the square it was in to the famous hotel that serves, apparently, the best pisco sours in all of Peru, and therefore, all of South America! I can assure you that it was, indeed, a rather good pisco sour and a rather strong one at that! After the shot of Peruvian wobbly juice we moved on in search for a place to eat. On the way we passed a street vendor who was selling 'arroz con leche' which we would know as; rice pudding! This was gorgeous rice pudding, muy rico! It was served with syrup of some description that had a flavour of, well, plum as I could tell and it was a cracking starter! After the reverse appetizer (dessert for starter?) we moved on and ended up in a Polleria. Very popular in Chile and now I learn, also in Peru. These rotisserie chickens are marinated in some beautiful herbs and spices, the served with chips and salad. Nothing new there for many a European, but the key was the flavour in the chicken.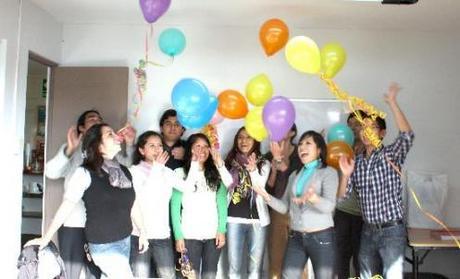 This picture has been liberated from TripAdvisor.
It really was a delightful way to end the evening; talking with the teachers, the fellow students and a truly great guy; Alejandro, who made the whole experience in Lima that much richer. A great little school is Peruwayna and they truly take care of their students, I was so pleased I had decided to spend two-weeks here and combined with the hospitality of my Peruvian family, this was a fantastic experience. If anything, I probably could have or should have seen more of Lima, but to add something a bit different to a year-long trip and something that I had wanted to do, and will continue to do, for a long time and that is; learn a language!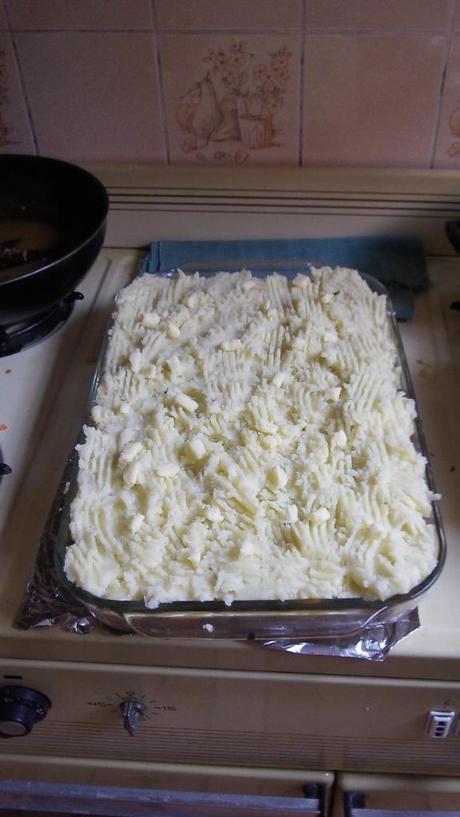 As a thank you and a goodbye to my surrogate Peruvian family, I decided to cook something at least approaching 'traditionally English' dish, the classic…Shepherd's Pie! I figured it would be an interesting cultural exchange, culinary speaking at least. It was also fantastic practice going to the supermarket and practicing my Spanish. The particular challenge trying to describe 'gravy granules'. I knew I was doing well when the shop assistant came back with a bag of grapes. Oh well, c'mon now people, it's all about practice, practice, practice. I managed to fashion a stock out of other ingredients and judging by the clean pates and the clean dish, the food was well received (or Peruvians are the most polite people on the planet!) After dinner it was time to catch my bus to Cusco, the third biggest City in Peru and the hub for people about to embark, or returning from, the Inca Trail and various other treks that lead to the wonder of Machu Picchu.
Cusco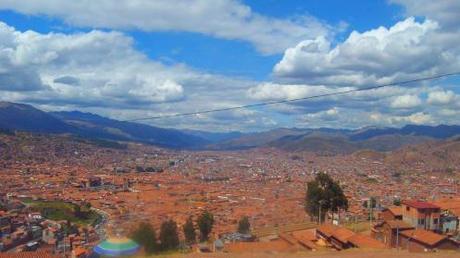 Coming into Cusco, in the morning, after the night bus I was first struck by the setting; the small houses climbing the faces of the surrounding hills and mountains, it really was quite the enchanting setting, a welcome good morning in fact. I had met a guy from London on the bus, Tushar, who had booked into a hostel called 'Pisko and Soul' and he suggested that I join him in the hostel, so, as it was a recommendation; I did indeed join him. We jumped in a taxi and paid the 12 soles requested and were taken to the door of our hostel, checked in, shown to our small dorm and made ourselves comfortable.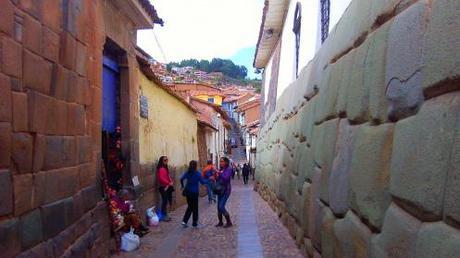 This really was quite a charming hostel with a lounge area complete with flat screen TV and sofas, and a dining room for the breakfast included in the room charge. After just about catching our breath (Cusco is 3,400 meters above sea level) which is actually quite tricky, we headed out to explore some of the centre of Cusco. Actually, my new-found travelling companion had been to Cusco before so it was a pretty direct route down to the main focal point of Cusco; the Plaza del Armas.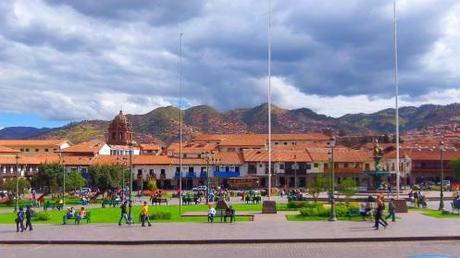 Working our way down the cobbled streets, the very narrow cobbled streets I might add, it was only a ten minute walk to reach the square, a ten-minute walk that felt like an hour as, once again, our non-acclimatised bodies were struggling with the altitude. However, not to worry about that, we would get used to it! As we rounded the corner the main plaza opened up and I must admit, I was quite taken-a-back, it was a really delightfully attractive square. The main feature was the Cathedral which overlooked one of the corners of the plaza; a large, impressive and imposing building it was a great introduction to the heart of Cusco.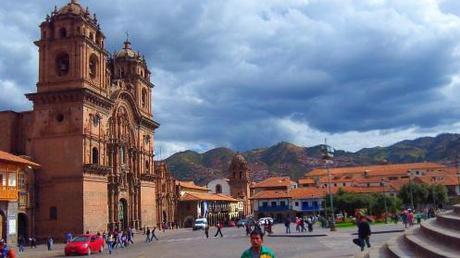 As we wandered round each of the sides of the square we were greeted by covered walkways, sprawling arcades and houses that played home to restaurants, shops and numerous travel agencies. In fact, as you got closer to the interior of each of the four sides, you could see what a tourist trap Cusco was. This isn't so much of a criticism as Cusco is the hub for most of the tours leading to Machu Picchu and there are many other activities and points of interest around Cusco, so it is understandable that many people are making their earnings from tourism.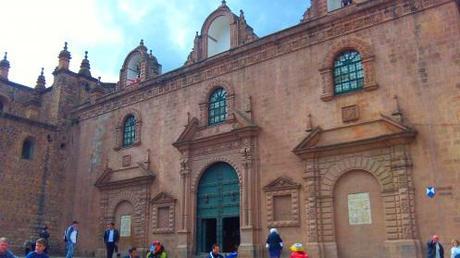 After grabbing a bite to eat we made the breathless trip back to the hostel. I was actually planning on booking myself on a trek to Machu Picchu for the following day, but figured if I was getting this breathless just wondering round the city, then perhaps at least one extra day was in order, even if it helped me a little, the help would be recognised. Eventually we got back to our hostel where I booked my 'Salkantay Trek' which would be five days and four nights culminating in the visit to Machu Picchu. The total cost, with everything included (well, minus tips to the guides and cooks) was $260 and would begin in two days' time with the tour operator: 'KB Tours'. Personally, I thought that was pretty reasonable (read on for a revelation). For those of you thinking that you can just turn up and book yourself on the Inca Trail, think again. It is pretty well policed by the Peruvian Government and you do need to book in advance; the wait is normally around 4 to 5 months! I would recommend trying to book with an agency in Cusco or Peru at least though. For example, if I were to book from the UK, I would have paid almost four times the asking price for exactly the same tour.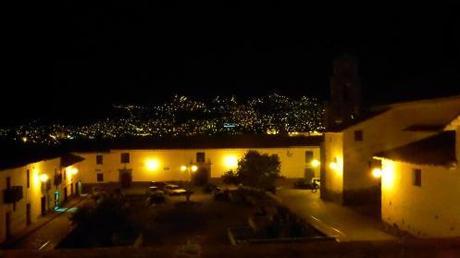 That evening we popped out to sample some of the Cusco nightlife, which has a good reputation too. We started off at 'Frogs' which was a really cool bar, great decor and interior design that wouldn't be out-of-place in the East End of London – very trendy. After a couple of drinks we went to another famous spot in Cusco; 'Mama Africa'. I could definitely see how this place appeals to the younger travellers, or perhaps the travellers more centred around partying as it was a rather busy club with loud dance tunes and cheap(ish) drinks. After one drink I was leaving the younger generation to it and headed back to my hostel. However, my night was not without incident as I managed to get myself chased by a pack of dogs. This wasn't the most delightful moment of my travelling experience to date and the fact I had to run at altitude meant I didn't recover for about an hour! Still, I thank the old Peruvian lady, the tiny, frail, old Peruvian lady who managed to scare the dogs off just by shouting at them. The large gringo man also fell over at this delivery and managed to bruise both his knees and his hip in combination of removing any sort of pride he once had! So, thank you old lady much appreciated.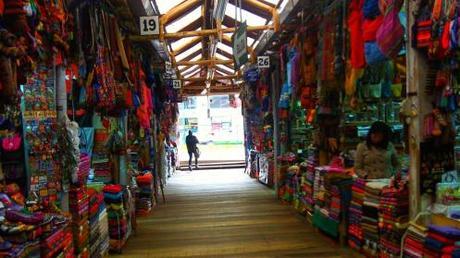 So, it was to be our second day looking round Cusco and acclimatising before I started the Salkantay Trek. Well, it was just me going on the trek as my Cusco-companion was off to La Paz, so we figured that a trip to one of the local markets, the main market of Cusco in fact, was in order so we could see what deals he could get.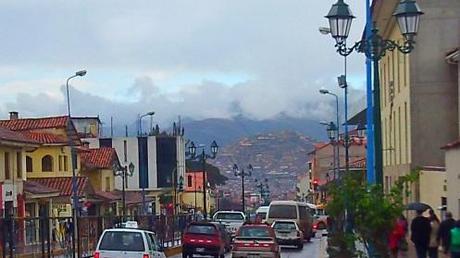 The walk to the main market was great; passing the main square once more and then heading slightly out of the centre, past Santo Domingo Church – a beautiful church set on a hill and keeping guard over Cusco, then further down the main road; passing smaller markets which had some interesting items before eventually reaching the main market. To be entirely honest, after spending five minutes in the main market, we were questioning why we continued further out of Cusco rather than spending more time in one of the smaller, more welcoming and more diverse markets.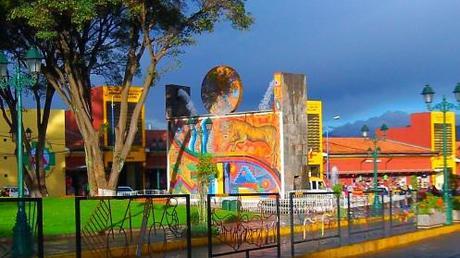 So, with that ticked off, we re-traced our steps back to one of the smaller markets and met with a truly lovely store owner, or 'stall' owner perhaps, who gave us some fantastic deals on some bulk-buying of warm clothing! It was great to engage with her with the Spanish I had learned too and her patience was commendable! (I think she thought I was asking for grapes too at one point!) The rest of the day was spent chilling out in the numerous cafes around Cusco before retiring back to the hostel, for an early night as I was getting picked up at 4am by my tour guide for the Salkantay Trek to Machu Picchu!