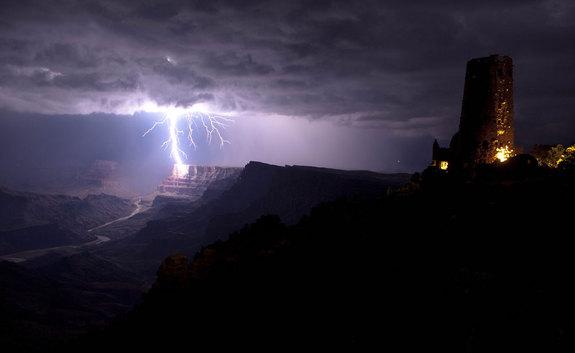 Striking Photo: Lightning Hits Grand Canyon Credit: Travis Roe/U.S. Department of the Interior In one of the most amazing images you'll ever see, a photographer standing near the South Rim of the Grand Canyon captured lighting striking the famous landmark.
Carved by the Colorado River, the Grand Canyon is one of the most famous and flocked-to natural features in the world. The canyon is 277 miles (446 kilometers) long, up to 18 miles (29 km) wide and over a mile (1,800 meters) deep. Some 2 billion years of history are seen in the canyon's walls.
Lightning is common at the Grand Canyon, especially during late spring and summer thunderstorms, which bring needed rain to the Colorado River. From 1997 to 2000, lightning struck somewhere in Grand Canyon National Park 104,294 times, averaging 26,073 strikes per year, according to the National Park Service. The canyon's rims, rocky outcrops and other open areas are particularly vulnerable to lightning strikes. [7 Amazing Grand Canyon Facts]
About 600 deaths have happened in the Grand Canyon since the 1870s.
- Brett Israel, OurAmazingPlanet Contributor