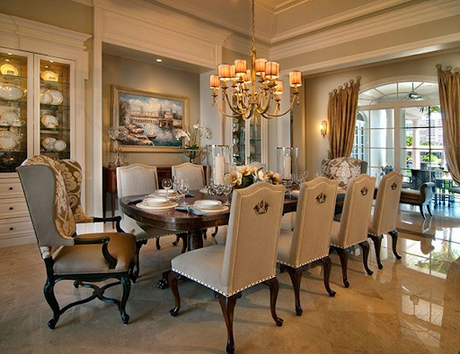 For years chandeliers have been synonymous with dining rooms. The dining room is one of the best spaces in your home to install a chandelier as that's where family members assemble together for formal meals. Regardless of whether your house is equipped with a large formal dining room or a small breakfast nook, a chandelier can be used to make a visual statement.
Benefits of a dining room chandelier:
Aesthetic appeal: Unlike other lighting fixtures, chandeliers serve as the centerpiece and draw everyone's attention. It is a conversation-starter for guests.
Functional: Dining room is a space where the lighting isn't only about aesthetic appeal. You'll need ample functional lighting as it is also a place for other routine activities like reading, homework etc. Chandeliers are functional.
Saves floor space: Depending upon the chandelier you choose, you can eliminate the need for any other lighting in the dining room, as it takes care of effectively illuminating the entire room. The room looks far less cluttered with less light fixtures.
Chandeliers for dining room:
Start by calculating the ideal size of chandelier for your dining room. Refer to the website of Sofary to determine what size chandelier for dining room would work great and then browse through their extensive catalogue. They are the leading manufacturers of chandeliers. They have a huge customer base owing to their highest quality crystal chandeliers.
Popular picks:
Modern multi-rings: The circular lights offer ample lighting and the rings look stylish. The arrangement of the rings makes the resulting refracted light perfectly diffused. If you want something more dramatic, you could opt for more rings with suspension lights.
Sputnik chandelier: This one is an ideal if you are looking for smaller and modern lighting solutions. It works great for Scandinavian homes and modern dining rooms. The Americans' fascination for NASA and space resulted in this interesting design.
Wagon wheel chandelier: Hang this above your round dining table. Due to its circular placement of light bulbs, there is sufficient lighting and the design adds visual interest even if the room has minimal décor.
Rustic flower of metal: Those who share a love for chandeliers but want a toned one version can opt for wrought iron chandelier. It appears like a bunch of flowers and is quite durable. Its natural black finish gives it both a modern and rustic look.
Double-layer crystal chandelier: Double layer crystal ones are about sheer glamour and add a dazzling effect. This one's draws attention to your ceiling's unique architecture.
Globe chandelier: This is for those who don't have inclination towards a formal dining room setting and instead have a low-profile table and chairs. Embellished with numerous crystals, the globe design adds a contemporary touch.
Color classic: Want to ditch the classic ones and looking for something quirky? An aqua blue chandelier is a bold choice and looks like a breath of fresh air. Pair the fabric of your chairs with the color of the chandelier.
Hanging a stunning chandelier above your dining table screams of sophistication. It also adds a decorative flair. It transforms your room from beautiful to gorgeous.