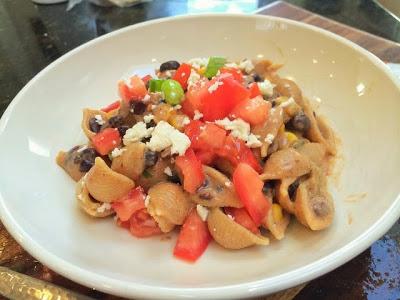 Mexican Pasta Time!!
For this dish I am combining two of my favorite cuisines: Mexican & Italian. Well, the only Italian part is that there is pasta in it, but whatever. You get my point. You can find enchilada pasta all over pinterest these days, but I thought I would bring you a lighter version so you don't have to worry about your waistline. So cream sauces are my favorite. However my ass hates them. I lightened up this cream sauce with almond milk. It is fairly low in calories( about 50 calories in a cup) so it is perfect in place of milk or cream. It thickens up while it cooks just like milk/cream and everything! You can add whatever enchilada toppings too! I added black beans, corn and jalapenos, but if your family is not a fan of going the vegetarian route you can add chopped chicken, shrimp, ground beef... I mean really anything you want. And to add the health factor I used whole wheat pasta. If I can fool my husband into eating it you guys can fool your kids. So get back on board with your health and eat pasta again without guilt!
Lightened Up Enchilada Pasta
Makes 3-4 servings
Ingredients: 
1/2 Box of whole wheat shells ( or pasta of your choice)1/3 cup frozen corn1/2 cup black beans ( drained)2 tablespoon of chopped jalapenos1/2 cup of queso fresco cheese ( or feta if you can't find that)1/3 cup enchilada sauce1/2 cup sharp cheddar cheese4 scallions chopped1 tomato chopped
Cream Sauce1/2 cup unsweetened almond milk ( or regular)2 tablespoons butter2 tablespoons AP Flour
Directions:
1. In a large pot,  boil water for the pasta. Once the water is at a rolling boil pour in 1/2 box of shells and cooked to package directions ( usually about 8-10 minutes.) Salt water. 
2. While pasta is cooking,  start working on the sauce. In a separate saute pan, on medium heat, let butter melt and add flour. With a whisk, make sure all flour is cooked out by stirring for a minute. Add Milk. Continue stirring with whisk. Continue whisking as sauce thickens. 
3. Add enchilada sauce, corn, jalapenos and beans, 1/2 of the scallions and cheddar cheese and mix. 
4. Drain pasta and add to sauce mixture. Add to serving bowls and top with the rest of scallions, tomatoes  and queso fresco.