Even if you're on a diet, breakfast is still going to be a very important meal for you. Instead of being bogged down all day by heavy and fatty foods such as bacon or drive-thru breakfast meals, you can instead make something right in your own kitchen that is light, fluffy, and is only 171 calories! What is this magical breakfast food? Just some simple and everyday whole wheat pancakes.
What will you need to make these light and fluffy whole wheat pancakes? Here is the full ingredient list below, which will make about seven servings.
Two cups of whole wheat flour
4 1/2 teaspoon of baking powder
1/2 teaspoon of salt
Two teaspoons of cinnamon
Two teaspoons of sugar
Two large eggs
Two cups and two tablespoons of milk, fat free
Two teaspoons of vanilla
Can of cooking spray
And here is the full recipe to make your own at home.
Mix together all the dry ingredients in a large mixing bowl and then add in the wet ingredients into the mixing bowl as well. Stir well with a spoon until everything is evenly wet and there are no dry spots left.
Next, take a large skillet and heat it over medium to high heat on the stove. Lightly coat the skillet with the cooking spray and pour in about 1/4 cup of the pancake batter into the skillet. After the pancake batter starts to bubble, you can start adding in sliced fruit or other good-for-you food options for taste. When the edges start to set, flip over the pancakes and repeat until finished.
Recipe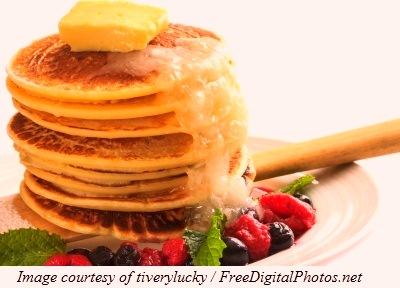 Recipe Name
Light & Fluffy Low-Fat Hot Cakes
2014-06-06
no rating





Based on 0 Review(s)