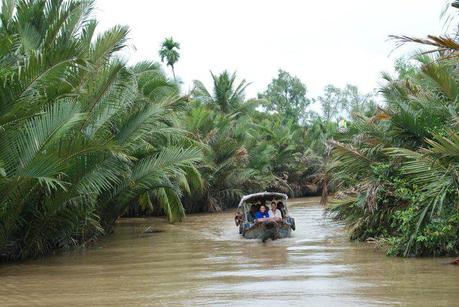 Today's guest post is a beautiful narrative by Terrance Richardson.
Over the course of our marriage, my wife and I have seen a lot of territory. We have taken at least one extensive holiday a year for the past 20 years, and I am not talking about a quick flight over to Paris or Spain, but exotic detours to places like India, China and Nepal. My wife and I do not want to lose our adventuresome edge, for both of us believe that edge is the real fountain of youth. Despite the fact we are in our golden years, the idea of playing golf, tennis or bridge for the rest of our lives in a retirement community is about as exciting as watching paint dry on the walls. Of course, we cannot strap on a rucksack like the days of old. However, it was all of those budget holidays that we took in our twenties that are allowing us to travel in luxury today.
It is early morning. My wife and I are sitting on the sundeck of R.V Mekong. I am writing a postcard to our oldest daughter, telling her about our journey to Vietnam. My wife is watching the scenery unfold along the riverbank. It is a combination of tropical wetlands, rice paddies and rural fishing villages. It is with these views that I am inspired to write the body of the postcard:
"When we first landed in Vietnam, we spent three days in Hanoi. We are departing from Saigon and will spend three days exploring that city as well. However, the core of our trip is a cruise through the Mekong Delta. The R.V Mekong is outfitted with 34 twin cabins and three decks. There is an elegant dining room and a world-class bar. It gets blisteringly hot in Vietnam, so the boat is fully air-conditioned. However, in the morning there is a cool and refreshing river breeze. It is the best time to watch life along the riverbanks.
Yesterday, we visited a couple of rural pagodas and stopped at a river island, but the real point of this R.V cruise is to relax. Hanoi was hectic and busy. Saigon will be the same, I imagine. The cruise will help us recharge our batteries before we start our sightseeing adventure in Saigon. Village life in the Mekong Delta is different than anything we have seen before. Time seems to stand still, and the water has a hypnotic effect. The entire riverboat is full, so your mother and I have had the opportunity to meet a lot of people. Speaking of your mother, she is hanging over the edge of the boat and snapping photos. She sends her love."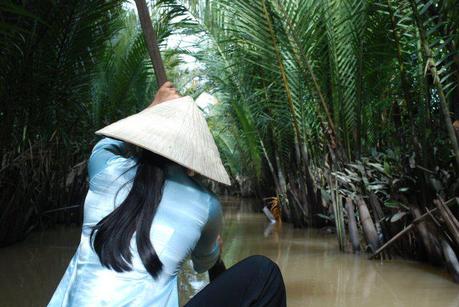 Anyone who has taken a tour of the Mekong will have a good understanding of its immense size, sheer beauty, and relaxing tendencies.  Letting the minutes tick by as you float by the river truly is an experience that has to be felt to be understood.  The longer you go and the longer you want to stay.  This is life on the Mekong.