I have been in rehearsals all day - every day this week at Yale's Norfolk Chamber Music Festival.  Check out
my last blog entry
if you would like to know exactly why I am here, but today I will show you what exactly I have been up to.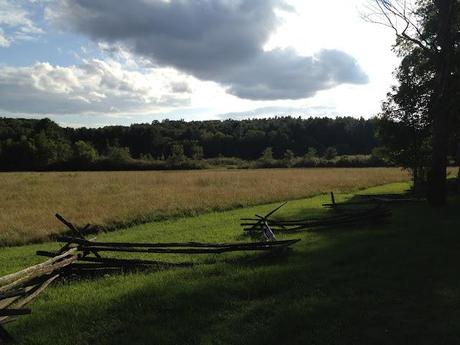 The estate of Ellen Battell Stoeckel
Every morning, I wake up early and from my cottage on the estate of Ellen Battell Stoeckel. I walk on a little path, across a small brook, past the barn (where the instrumentalists practice - in their natural environment of course - it's actually a world class studio, not a barn, but they call everything by simple names here), and up a large hill to the Battell house where the cook has made breakfast for everyone on the estate.  It's a full meal and unfortunately, after several days, the food has caused me considerable pain if you consider the stress on my bowels and bladder from the capacious volume of food and water I've been inhaling.  We are in rehearsals for most of the day - which means I must keep my energy and keep hydrated - my body hates me for it!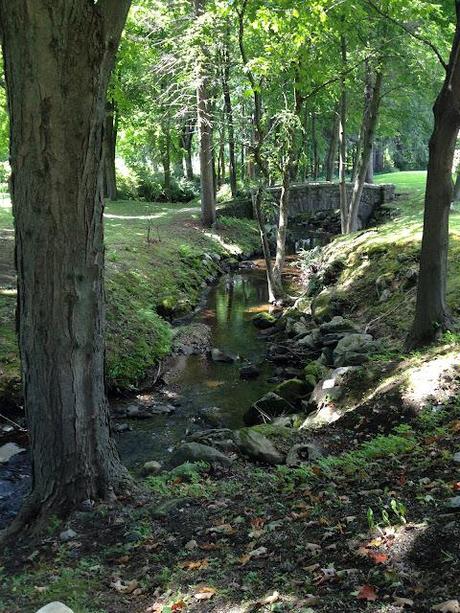 The estate of Ellen Battell Stoeckel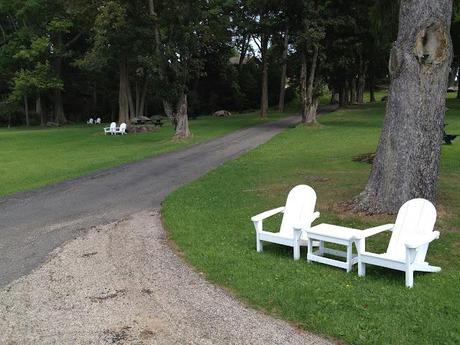 Chairs on the lawn at the estate of Ellen Battell Stoeckel
Our first rehearsals are in an old room with old chairs and old instruments.  We are not allowed to put any drinks on the 1864 Steinway, but it is in great working shape!  I tested it out, not knowing my next chance to play such an old instrument - but in rehearsals, we use an ultra-modern and elaborately ornamented 1895 Steinway instead.
I brought my backpack full of music with me and set up my "station" by placing my music on the stand, setting it to the right height, making sure my water bottle is out and my pencil works, and I take off my shoes and put them in the back of the room - so I can be comfortable.  The chairs are very old and very uncomfortable, so I constantly have to stretch.
The singers are set in an arch and generally, we were expected to have our music proficiently learned before we arrived.  Our rehearsals are not meant to learn notes, like most amateur music rehearsals are around the world; instead we try to create the correct sound, make pitches perfectly in tune and in the correct style of the piece, perfect our diction and language.  It's difficult to describe the level of perfection that is required unless you sit-in on the rehearsal, and I suppose it would be a little funny to imagine a "tone deaf" person observing because so much of our rehearsals center around pitch and timbre (the quality of the sound) - I would assume most wouldn't be able to tell the difference if you didn't know what to listen for, but there really is much to work on.  
The music we are performing are in many different styles - some for soloists, some for small ensemble, and some strict choral settings.  Some pieces are very old: "Peccantem me quotidie" by Cristobal de Morales (early 16th century), "Venite populi" by Mozart (late 18th century), and "Lieto godea" by Gabrieli (mid 16th century).  Some of the music is very new or brand new as well.  One piece is called Song for Billie Holiday by William Averitt.  It was written in 2009 and the words are by Langston Hughes.  It is a solo accompanied by a few voices and four-hand piano.  It is incredibly moving, bringing one conductor to tears.  I am performing a piece in Hebrew (pretty rare for me) called Uri Tsafon by J.C. Rommereim from 2002 with voices, string quartet, and piano - the text is a sultry/erotic portion of the Song of Songs!  One of my other favorite pieces is a set of Aesop's Fables which includes spoken and sung text - it's witty and brilliant - and I'm singing a version of the psalm text "Praise Ye the Lord" accompanied by a solo trombone which is quite interesting and exciting.
We're giving the World Premiere of a piece by Loren Loiacono.  I've been able to talk to the composer about it a lot over the last few days and I really love it.  It is called "The Awakening" written for soloists and a chamber group of strings, percussion/xylophone, and bass clarinet.  It is completely beautiful, spooky, and depressive!  The lyrics are from the end of the Kate Chopin novel of the same name, where a woman liberates herself from her inner turmoil and walks into the ocean and swims until her death.  The music alternates between a woman and the narrator and as her ambiguous death approaches, the music also ambiguously blends the narrator and woman.  Here's the text:
"How strange and awful to stand naked under sky.  How strange like some newborn creature opening its eyes in a familiar world that it had never known. How strange and awful. How delicious! The foamy wavelets curled up to my white feet and coiled like serpents about my ankles.  The water was chill, but I walked on.  The water was deep, but she lifted her white body and reached out with a long sweeping stroke.  And the touch of the sea is sensuous, enfolding the body in its soft, close, embrace.  She went on and on.  I remembered the night I swam far out and recalled the terror that seized me at the fear of being unable to regain the shore.  Her arms and legs were growing very tired.  I remember the bluegrass meadow, that I had traversed as a little child, thinking it endless.  No beginning, no end.  My husband, the children, they were a part of my life, but they needn't have thought that they could possess me body and soul.  Goodbye, because I love you. He did not know, he did not understand, he'd never understand.  She heard her father's voice and her sister Margaret's.  She heard the barking of an old dog chained to the sycamore tree.  The spurs of the cavalry officer clanged as he walked across the porch.  There was the hum of bees and the musky odor of pinks filled the air."
I think the piece is brilliant - and a brilliant view of the mind as she approaches her death.  Hopefully the recording will be available soon hereafter.
My next update will be about our performance - it is the final performance of the entire festival, and just like the last performance at Woodstock, I hope we can be the Jimi Hendrix of the Norfolk Festival - memorable, and however unlikely, if our recording could also be included in a fireworks show on the Fourth of July, that would be great as well!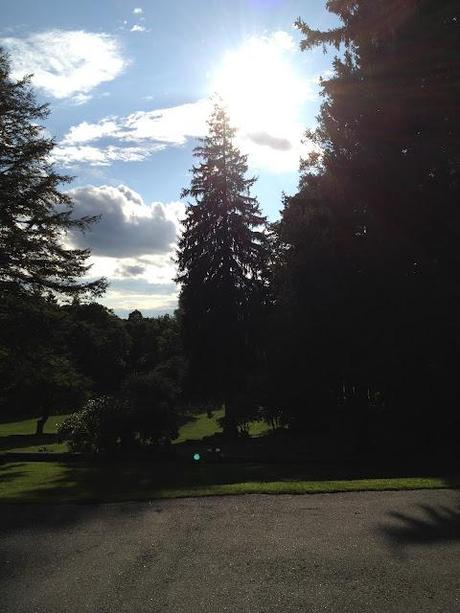 The estate of Ellen Battell Stoeckel