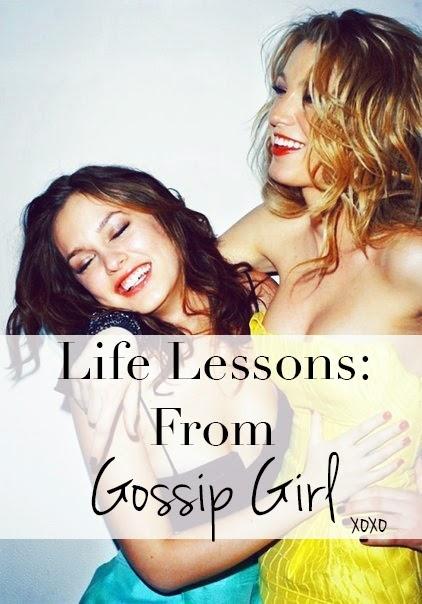 As I like to say...Blair Waldorf is my spirit animal. Watch one episode of GG and she is there with advice that blows everything else out of the water. With a love for beautiful things, macarons, and fashion...we are basically the same person (if she was blonde and lived down south...obviously.) GG is like a devotional with a constant quote for each and every dire situation. 
A few of my favorites being: 
"Fashion is the most powerful art there is. It's movement, design, and architecture all in one. It shows the world who we are and who we'd like to be." -BW
" I am not a stop along the way. I'm a destination." -BW
"Destiny is for losers. It's just a stupid reason to wait for things to happen instead of making them happen." -BW
"People don't tell you who you are. You tell them." -S
"Sometimes you need to step outside, get some air, and remind yourself of who you are and where you want to be." - GG 
"We make our own fairytales." -BW
and of course:
"Here's my advice...have a little faith. And if that doesn't work, have a lot of mimosas." -BW
______________________________________
So of course I draw all of my life lessons from GG:
1. You can reinvent yourself no matter how many times you have to do it.
2. Your second engagement can be the perfect fix (i.e. Chuck and Blair)
3. You can forgive and move on. 
4. Never let a man define you. 
5. No matter what, friends will always be there in times of need. 
6. Eventually we all end up with who we were always supposed to be with. 
7. You can get through the hard parts with friends, a few cocktails, and a trip to some place fabulous.
8. The right pair of shoes can get a girl places.
9. If you pretend to be something you aren't, you're transparent. 
10. Pursue your passions even if you don't know what those are yet.
11. Sometimes leaving the place you've always known is the best thing for becoming who you were always supposed to be. 
12. There is absolutely nothing like the love of family and friendships.
_________________________________________
 And MOST importantly EVERYTHING works out in the end.
xoxo
BCC
(see what I did there?)