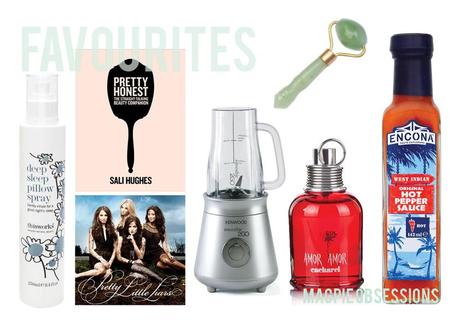 January seems to have flown by and I'm not really sure what happened in it. But there are a few things that I adored and that stick out the most that I really wanted to share. Deep Sleep pillow spray has been in my life for over a year and is a staple in my night time routine. I picked up this huge 250ml bottle in a feel unique sale and I love having it on my dresser it's going to last for ever. I bought myself the Sali Hughes Pretty Honest book after Christmas - I'm half way through and loving it. Sali writes in such a honest and knowledgeable way I'm loving reading it and have already learnt so much.
Pretty Little Liars hit Netflix last month and I made my way through it in a matter of weeks. Having only one episode a week is hard but I'm kind of glad as it took over my life for a little while. Eating more fruit and veg was one of my 2015 plans so the Kenwood Smoothie 2 go maker has been my go to breakfast. It's not the best on the market I'm sure but for the £20 price tag you get a mean morning smoothie from it. I like frozen pineapple, spinach, chia seeds, lemon juice, orange juice & some carrot. I read that 80:20 veg:fruit to a morning smoothie is the key so I'm trying to up my veg as much as possible whilst keeping it tasty.
Santa bought me Amor Amor this Christmas - it was my favorite perfume from about 15 - 18 years old. I adore it and I love having it back in my life. I'm also loving my jade facial roller - I've been using it every single morning and night and although my better skin can't solely be contributed to this I feel like it's definitely playing its part. I also had to include the Encona Hot Pepper Sauce - I've gone through 2 bottles of this stuff in a month. I can't get enough of it - it's fresh and super hot and although it probably doesn't in reality I've been putting it on everything.
Finally I had to include the American Office as I finished it today and I'm awfully sad that I have no episodes to watch (I might have cried constantly through the last two). Stanley's my favorite character probably ever out of everything - I miss him already. 
Georgina x.
ps I've worked out where January went - I just watched Netflix.