The addition of a baby to a family is a special time. You want everything to be perfect for this new person. You've planned and decorated the nursery a thousand times in your head but when you look at your home you don't know how to make it happen.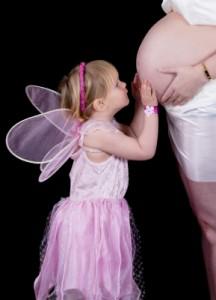 Credit
Consider a Storage Unit
You're not only bringing a new baby into the home you're also bringing in a crib, changing table, dresser and rocking chair. How will you ever fit all that new furniture in a home that's already filled to the rafters? Renting a storage unit is the perfect solution for a home that suddenly needs twice as much square footage.
Pare down your home furnishings to what you use on a daily basis. Spare television sets, chairs and end tables are likely candidates to move out of the house. You can keep these items in either temporary or long term storage. Most seasonal items can be rotated every six months. This eases the burden on over stuffed closets. If the baby is coming in the summer pack up the winter clothing, toys and tools and take it all to the storage unit.
De-clutter and De-stress
Boxing items you don't use often and getting them out from underfoot is a great stress reliever. Modern family life is so full that something as simple as de-cluttering can have a profoundly calming effect. It's better for everyone when there's less stuff to clean and pick up. Your time and energy should go to caring for the new baby, not stuff.
Save Money
When you rent a storage unit for your belongings you're able to reuse them at a later date. It might not be economically feasible to get rid of everything and then re-purchase it later. Placing items in storage also gives you time to reflect on what you really need and want. You can toss to your heart's content at a time that's more convenient.
A baby is tiny, but all the equipment it needs isn't. A storage unit frees up space in your home, making it more livable and manageable. You won't have to move in order to make room for the baby if you put some items in storage. Renting storage space is a good alternative to the expense and stress of finding a new place to live.
Welcoming a new baby home is a joyous occasion. Making room for the baby is part of that process. This is a time of transition for everyone. Do yourself a favor and rent a storage unit. Your house is your home, not a place to store everything.
Image by 4Neus and licensed through Creative Commons.
Paul Benjamin is a District Manager at EZ Storage. Learn more about the state-of-the-art security and current specials at EZ Storage in St Louis today.