I have been nominated for the Liebster Award... Twice!

I have seen many bloggers posting about being nominated and now I have been fortunate enough too nominated by Krystel Ice (

http://krystelcouture.blogspot.co.uk/)

 and Teresa (http://alittlebitsunshine.blogspot.co.uk/)I am very excited and thank you both of you! <3 

For those of you who don't already know, the Liebster Award is for bloggers with less than 300 followers to share facts and information about themselves to followers and readers. A blogger will nominate five other blogger that they think deserve the recognition for their blog. This is such a great way for people to find out more about a bloggers personal side and see new blogs!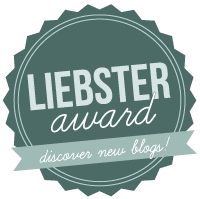 11 Facts About Me

 1) I am still scared of the dark and have to sleep with the bathroom light on.2) On lazy days, I love putting on my 'Hello Kitty' onzie and watching endless episodes of 'Ugly Betty' on the sofa.3) I really want to move to Manhattan to persue my dream of becoming a writer.4) I am a good saver but an even better spender :)5) Even though I want to move to Manhattan, I really want to go to China.6) It's my birthday in 2 days :D (5th February)7) I only joined Twitter and few weeks ago. My mom had Twitter before me, is that really bad? 8) When I was in year 1, I took me stuffed animal cat into 'show and tell' but because I hadn't given 'him' a name I froze and said what first came to mind. And that was lettuce, so 'he is now called Lettuce - what?  9) I love doing big projects for homework #geek. 10) I really hate reading, especially in class aloud.11) I have to shut every door in my bedroom before I go to sleep in case a monster comes in and eats me.
11 Questions I Was Given by Krystel 1) What Is Your Desert Island Essential?

Well, my essential would be a camera, because whenever I'm bored I

take photos so it would never get boring on the island.

2) Flats or Heels?Heels! I'm short so my legs always look skinner when I'm wearing heels.3) Favourite Beauty Brand?I'm not too big on beauty, more of a fashion girl myself but if I were to choose it would have to be Revlon because I find that all their products are really pigmented.4) Coffee or Tea

Tea! I don't like coffee it's too strong. Nevertheless, my favorite ice cream

flavour is coffee?5) Describe Your Fashion StyleSimple Chic, with statement accessories!6) Why did you start blogging?I started blogging because when I'm older I would love to become a fashion journalist, so I though making a blog and writing about fashion would be a good way to start getting a taste of if this is really what I want to do. So far, I'm loving it!7) What is Your Favourite Food?Macaroons! I am absolutely obsessed with them. My dream cake would be a tower of macaroons, all different colours.8) Fashion or beauty?Fashion is definitely my passion! Even though I do like looking at beauty blogs and watching beauty gurus on YouTube, I still prefer Fashion.9) Describe Your Personality In Four WordsUnderstanding. Loving. Fun. Confident. 10) what Pet Would You Have And Why?I really want a goldfish. Yep, a goldfish called Steve. I don't really know why I hate fish because they scare me but I think golfish are just adorable.11) What's Your Favourite Thing To Indulge On?A good old hot chocolate with whipped cream and tiny marshmallows. Yummy!


11 Questions I was given by Teresa

1) What one beauty product do you always wear?I have most recently been wearing 'Gernier Miracle Skin Perfecter Daily All-In-One B.B Cream - light. I feel that this B.B cream has a really nice finish and looks very natural.2) If you could only eat one food for the rest of your life what would it be and why?I would have to say a good old burger. Not the most glamorous food I know, but you can't really go wrong!3) What you wrath be rich or famous?Well seen as I'm a shopaholic I would definitely want to be rich rather than famous. Fame doesn't really appeal to me.4) What's your favorite animal?Probably giraffes, there cute :)5) What item of clothing do you wear the most?Plain black leggings. I LIVE in leggings.6) What is the most expensive thing in your wardrobe?My Indigo Ugg boots (see my ByeBye January post to see pictures.) I got them as a Christmas present.7) Is there someone you would take a bullet for?I don't think i'll ever be in that situation (hopefully)8) If you had one wish to come true, what would it be?I would love to be able to draw really really well. Especially drawing portraits of people I think it would be so cool. Another wish would be abel to fly.9) How often do you change your hair colour?I don't change my hair color but I do dip-dye it with different colours10) Chocolate or sweets?Sweets! My favorite sweets are jelly beans in the flavor watermelon. Yummy!11) What is your favorite season and why?Summer! I love wearing shorts and girly tops. 
The bloggers I have nominated are:
Lauren Zetta BeautyMarcie MayThe Lipstick, The Girl And Her WardrobePaige Of FashionTrend Steps


My Questions To Nominees:

1) What is your fashion NoNo?2) Favourite time of the year?3) Skirt or shorts?4) What's the one thing you couldn't live without?5) Most worn thing in your closet?6) Candy or chocolate?7) Neutral or bright lip?8) Sun or snow?9) If you could meet any fashion designer in the world, who would it be and why?10) Favourite inspirational quote11) If you could only eat one thing for the rest of your life, what would it be?
I would love it if the nominees could leave their ULR in the description so I can read your responses.