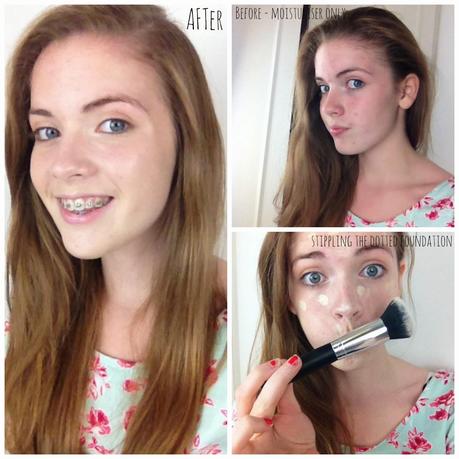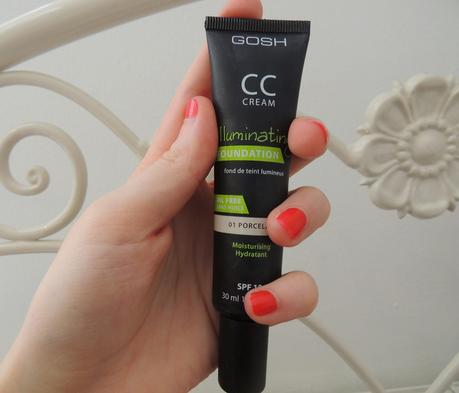 Hello everybody!
Todays post is a review/first impressions on the 'Illuminating CC Foundation' by GOSH in 01 I picked up at Superdrug about three weeks ago. This foundation was recommended to me by my Godmother as I had told her about my never ending struggle to find a foundation pale enough to find me skin. So long story short - it's GREAT for the pale! As somebody who has never brought anything from GOSH I was eager to try it out, especially as I got it for half price. 
First things first, this foundation has a light to medium coverage depending how much you apply and how you apply it. So far I have decided to apply it with a curved-angled brush that I got in a set of 12, squeeze a reasonable size dot onto my hand, and stipple the liquid onto my face. I normally start with a cleansed and moisturised face with concealer on top and work from the center of my face outwards.
Secondly, I really do see the illuminating effect working on my skin. As soon as I put the foundation on my face, I powder all over with Soap&Glory's 'One Heck Of A Blot' as my face becomes extremely oily, very quickly! However, the illuminating 'power' surprisingly does not hinter my oiliness, but in face controls it. As well as this, the oil free formula makes the cream stay on my face for a lot longer than I was anticipating. I haven't worn this foundation for more than five hours but as far as I can tell it is going to be something I can rely on.
Another aspect of this CC Cream/foundation that I love, is how well it covers up imperfections and discolouration. As I mentioned above it has a light to medium coverage (more like light but it could be built up), however, with a concealer I can hardly see blemishes or dark circles. *Big thumbs up*.
Overall, I am pleasantly surprised by how well this foundation performs. At £8.99 in Supedrug (although, GOSH has always got a deal or sale going on) I will for sure be recommending and repurchasing this often.