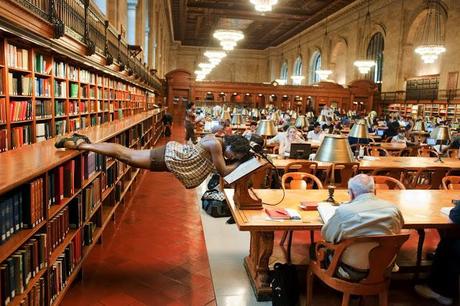 Ever since that summer american public libraries have had a warm spot in my heart. Not only do they provide a computer and internet access to pretty much anyone who can show an ID, the convenience of selecting, picking up and dropping off materials is still exciting to me.
Back home only weird and old people go to libraries. I am not talking about students, they don't do it by choice. Otherwise there's nothing to do there, most libraries are dusty, smelly, boring. And who reads paper books these days anyway? Just going through the library catalog is exhausting and is a very good test for your nervous system. 
Not here, though. You can browse entire library catalog online, I've challenged it several times by entering queries sort of as a joke and every time there would be at least a dozen of results. Oh and should I mention that there are not just your standard paper books, there are audiobooks, music, videos, magazines, encyclopedias? You find what you want, place a hold and tell them where to send it, sit back, relax and wait for the doorbell to ring. Well, not really, you still need to drive to the library to pick it up, but that's nothing if you think about how much time you saved already. They will send you email notifications when the materials are ready for pick up and 3 days before you need to return them.
Wait, and the best part? It's all for just $3 initiation fee (or something in that range). In other words, it's all completely and absolutely free. That's a definition of an exceptional public service, if you ask me. I am fascinated, if that's is not yet obvious. 
When was the last time you went to a library? Do yourself a favor, check it out.