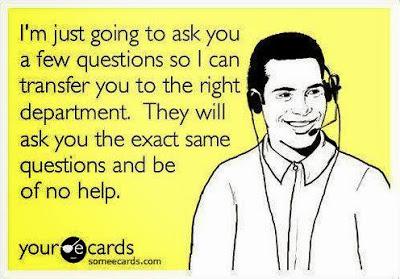 I'm sure you have been there at least one (or a dozen) times in your life. You desperatly need help with whatever issue you have, dialing a 1-800 number hoping to get a human on the other end of the cord, going into details, pouring your heart out, even addressing them by their name. And all you get is "I understand, I'm sorry, but I cannot help".
The options they give you are in a range of something a 5 year old could figure without having to call them or the answer that is listed on the FAQ page. Basically, not the one you were hoping to get. I don't know about the rest of people's reactions, but CS expeiences like that make me want to cry, ask them "Why don't you love me" and yells out "Don't be a robot" all at the same time.
That is not to say that some Customer Service reps have been nice and/or helpful to me on a number of occasions, but once bad experience like that erases all the good memories of them from my brain.
Oh, and how much do you love the "Is there anything else I can do for you today?" standard, almost automatic, soul-less phrase at the end of the conversation?.. I find it at least insulting.
Beeeep.