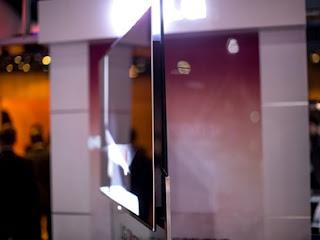 LG Display apparently being very busy with a super sharp screen. 
After yesterday introduced a 5-inch screen resolution of 1080p, the Korean giant has been preparing for this claim 4K resolution OLED TV in 2013. 
4K display may not be too new, you can find it in theaters with digital projectors, but can not attend 4K display in your home. term 4K own means about 4000 pixels in the horizontal section of the screen, resulting in 4 times greater resolution than Full HD (1920x1080 pixels). 
While the OLED display itself is different from LED TVs sold today (LED backlit LCD is given), a backlit screen that does not use as an LCD, so has the level of contrast and black levels are very high and brilliant color, more or less like the AMOLED screen on your cell phone or a tablet. 
Both combined it can be said is a perfect combination. 
But the barriers are currently most content has not been made ​​in 4K video format, but when the 4K has become a standard as Full HD at this time, certainly the more 4K content.
LG alone does not explain other details such as screen size, price and time availability.
source