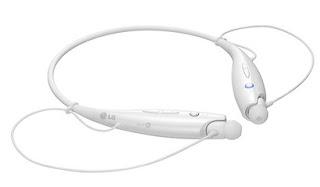 LG
Electronics launches new Bluetooth stereo
headset
called
LG TONE +
(HBS-730). The headset is a successor to the previous headset successor to the most popular items on online shopping sites like Amazon, LG TONE (HBS-700). LG TONE + not only bring good audio quality, but it also supports the call VoLTE (Voice over LTE) with
High Definition voice quality
through devices that support VoLTE.
Paul Bae, vice president of LG Electronics Mobile Marketing Center said, "LG is the first company in the world to demonstrate VoLTE technology and announce VoLTE smartphone. And today, we are still leading the market VoLTE. To continue to support the needs of our customers with 4G networks, Motorola will continue to add new mobile products, including accessories that support LTE and VoLTE. '
LG TONE + is available in white and black, also can vibrate when a call comes. This headset can connect two devices and read SMS messages. + TONE able to survive 15 hours of talk time or 500 hours standby. LG has not been talked about much, but this headset will be available in the U.S., Korea and China by the end of the month.
origin source by LG Press Release