LFW:

Front Row Fashion
I don't know about you, but this fashion month I haven't really been all that interested in following the shows as religiously as I have been past seasons. Maybe I have my mind stuck elsewhere, but there seems to only be a few shows or events happening this month that have been the least bit impressionable on me. Don't get me wrong, I probably will do a few posts here and there about the various fashion week shows thus far, but right now I felt the need to show you what those on the front row have been wearing. In particular, looks from those attending the Burberry Prorsum AW'13 show. 
Sitting on the sofa, MTV on the telle box and I'm watching their little news recap thing that they do; up pops Rita Ora giving a brief interview before she goes into the Burberry show and I'm like "Hold up. What is she wearing?". Turns out that she was supposed to be wearing a dress, but Rita decided that she preferred the Burberry SS'13 mens suit instead and stole it from her stylist. Paired with a 'Queen Delevinge' white tee, some white peep-toe wedge heels and retro 90's oval shades, she actually looked amazing. I don't normally take notice of celebrity style, but I had to admit that what she had on was inspiring me to some degree.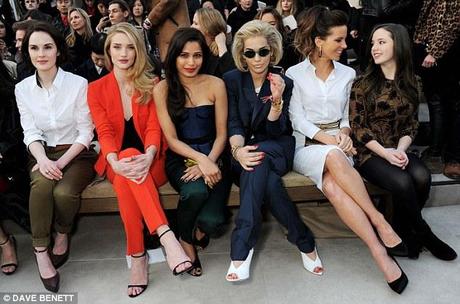 Turns out that Rita wasn't the only front row celebrity making an appearance in some Burberry tailoring though; Victorias Secret model Rosie Huntington-Whiteley also showed up to the show in a scarlet slim leg suit, paired with a simple black top and heeled sandal shoe. I can't decide whose look I preferred more, but there's no denying that both looked amazing in their own way. 
It has definitely got me considering some tailoring - menswear actually - in my own wardrobe, but what about you? Do you prefer Rita's take on menswear, or Rosie's lady like version best?