Lexira Luxurious Micellar Water is an elixir of rose oil and rose water which supplies natural power and loving care for healthy looking skin.
Bulgarian rose oil in this unique cleansing elixir provides antioxidant and anti–inflammatory benefits. Rose water is a natural antiseptic, rosemary extract is an antioxidant which stimulates blood circulation while ginseng extract helps elastin synthesis and decelerates the aging process.
Lexira Micellar water is made up of micelles (tiny balls of cleansing oil molecules) suspended in soft water. The idea is that micelles are attracted to dirt and oil, so they can draw out impurities without drying out the skin.
This  Micellar Water can be used as a facial wash, makeup remover, and a moisturizer all in one. It can remove light foundations or eye makeup.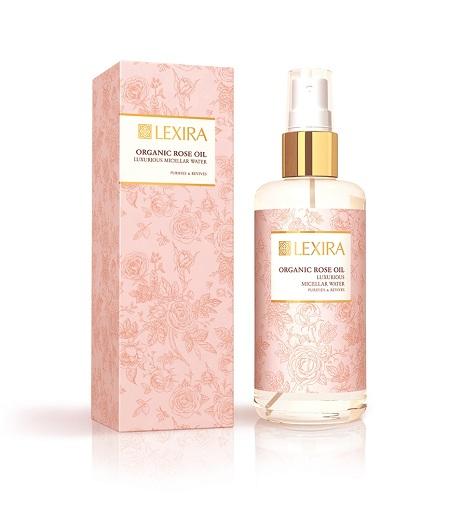 Lexira Luxurious Micellar Water
For many who have sensitive skin, a product like Lexira Luxurious Micellar Water with Rose Water is a gentle cleanse. One that refreshes and revitalizes a tired skin.  A perfect product for a rinse-free morning cleanse. Hydrating and super-soothing.
You can use Luxurious Micellar Water as a light face wash. Its consistency is just that—lightweight, easy to apply, refreshing and doesn't leave your skin feeling – sticky. It's so nourishing and hydrating that you don't even have to rinse.
Since there is no rinsing required, the Micellar Water is the perfect refresher on the go. It's also great to have on hand when you are traveling. Lastly, but certainly not least, take it on a flight with you for a mid-flight boost. Make sure to pack it in your carry-on travel size.
Lexira Luxurious Micellar Water
The Lexira Luxurious Micellar Water as well at the Lexira skin care range can be found here in Hong Kong at The Best New Zealand Shop here in Hong Kong. The Best New Zealand Shop has 11 retail locations, where you can purchase Lexira and get excellent advice. Shop at BNZS Shop 114, Man Yee Arcade, Central, Hong Kong/BNZS Shop 4A, LG, I Square, Tsim Sha Tsui, Kowloon.