From the patriotic spectators watching the U.S. Women's Open Championship to superstar golfer Lexi Thompson out on the fairway, many showed off their red, white and blue spirit in Wisconsin this week.
Take a look at these people wearing a flag on their pants and tell me what you think. Personally, I don't believe in wearing the flag on my bottom but that's just my opinion. Old Glory should be displayed but perhaps instead flying majestically from a pole?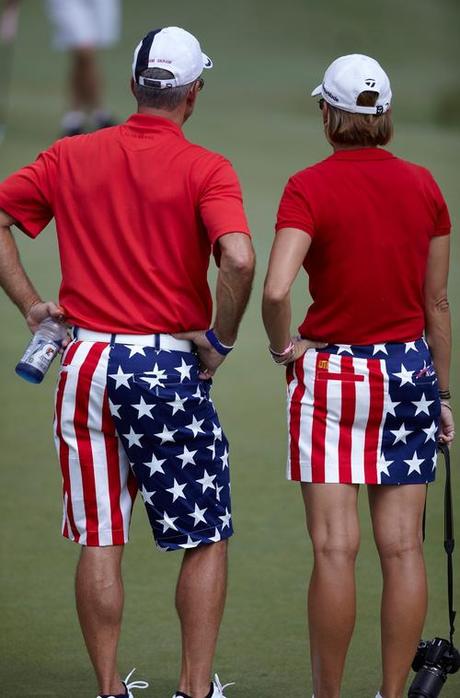 Below is seventeen year-old Lexi Thompson hitting a chip shot in her red, white and blue outfit at the 2012 U.S. Women's Open at Blackwolf Run Golf Course in Kohler, Wisconsin. With a strong start and currently in a tie the lead, Thompson's sixth U.S. Women's Open could be her winning moment.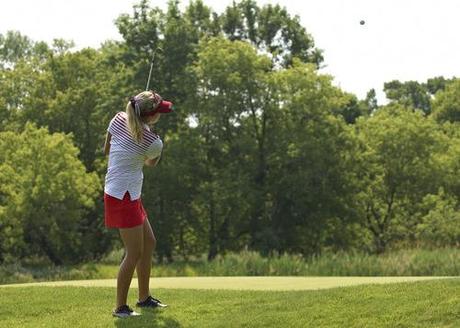 Lexi has the right idea about how to attack Blackwolf Run. "I would definitely take four rounds at 2-under par, but I'm just going to try to do the same thing I did today and stay confident, patient," Thompson said. "That's pretty much all you have to do in an Open out there."
Finally, in my opinion, amateur Samantha Marks rocked the course with this terrific Independence Day golf outfit:
Photo: Zimbio.com
The U.S. Women's Open runs July 2-8 and children seventeen and under receive complimentary admission with a ticketed adult, all week-long. If you can't watch the action live in Kohler, Wisconsin, make sure you check out the extended TV coverage on ESPN2 and NBC on the weekend.