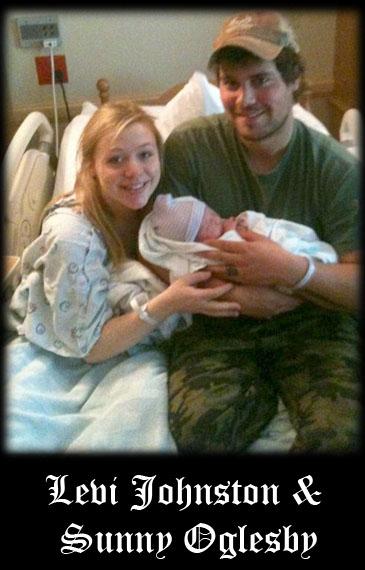 Levi Jonathan will be soon spotted with a wedding band on his finger. Sorry to inform all the ladies that Levi is going off the market as he walks down the aisle with is fiancée and mama to second baby, Sunny Oglesby, this weekend.
The wedding vows will be exchanged in Wasila, Alaska. The couple have been dating for over a year.
In early September, the 22-year old Levi and 20-year old Sunny welcomed a daughter named Breeze Beretta into the world. She's named after the Italian firearms manufacturer.
Breeze will be front and center when the couple say 'I Do' but it's not yet known if Levi and Bristol's child, son Tripp will be present for the festivities as the Palins aren't invited.
Previously the former Playgirl model was dating Bristol Palin, the daughter of former Vice Presidential hopeful Sarah Palin with whom he has a four-year old son, Tripp. The relationship between Bristol and Levi was called off in 2010 and since then has been highly contentious.
In a recent interview with Inside Edition, Levi slammed his ex-girlfriend, vowing "you couldn't pay me" to get back with Bristol.
For her part, Britol Palin has labelled Levi as a "deadbeat dad" and claimed he is not a regular part of their son's life.
Levi has clashed with the Palins since splitting with Bristol, accusing the family of denying him to spend time with his son, Tripp and also announced that he intends to fight for custody of the four-year-old.
Sunny Oglesby is a former Playboy model, presently into teaching.
Wishing the happy couple happiness and bliss for years to come! Congratulations Levi and Sunny!
Also Read : Lance Armstrong Stripped off Titles, Remains Hero for Cancer Survivors