We have all been there, haven't we? You know the scenario where you have ordered everything you want from the menu. The meals and drinks have been delivered and devoured. All that remains is to ask the waiter/waitress for the bill. If only you could grab their attention. Glances over at the door reveal a queue forming as willing customers are anxious to get a table so that they can tuck into their desired food of choice. However, there is nobody free to assign them a table. Ironic isn't it?
Last week saw the launch of the iPhone application for
Pizza Express
which will change customer behaviour in bill settlement. The application allows customers to pay for their bill using their
Paypal
account or their credit or debit card via their iPhone. Hurrah! No more waiting to catch the eye of the elusive waiter or waitress!

Pizza Express iPhone App allowing settlement by Paypal
Personally, I think this is a great response to settling bills quickly and efficiently and it will aid the quick turnover of restaurants covers during peak dining periods.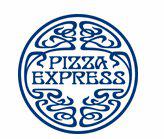 Pizza Express Logo
I think this innovative idea will work well with the kind of business model Pizza Express has; a consistent offering within each restaurant and it would not surprise me if before too long, following a trial period at Pizza Express, this arrangement is rolled out to the other restaurant chains owned by
Gondola Holdings
 including 
Zizzi Ristorante
and
Ask Restaurants
. To remain competitive within this market, chains such as
Giraffe
and
Prezzo
will have to follow suit.
Along with this new trend, comes the question, "Will this be suitable for all dining establishments?" Clearly not.
For those fine dining and independent restaurants who charge a premium for not only having top quality ingredients and well established chefs, but for staff who are trained to provide that little bit extra when it comes to customer service i.e. discussing certain aspects of the menu including cooking techniques, suggesting wine pairing and whose offering has a high ratio of waiting staff to customers will probably not go down this route. This flies in the face of their 
raison d'être
. Indeed, they can attribute their partial success to their heavy investment in staff training and service. Also, from a customer perspective, engaging with the waiting staff in these restaurants forms part of the whole dining experience. They are not necessarily looking for just a quick meal before going elsewhere.
While the trend will not catch on everywhere, I have to applaud Pizza Express's ingenuity in resolving a frustration experienced by most diners during a busy lunch period.
For more information and to download the application visit:
Pizza Express