American Pie was released in 1999, the year when some of my most favorite films released, which includes American Beauty, Fight Club, The Matrix, The Green Mile, Sixth Sense, Cruel Intentions, Magnolia and of course American Pie. In fact even Wikipedia believes that 1999 was the year that changed movies.
This film has a pact, some friendship, love maybe, some hilariously awkward father-son encounters and Steve Stifler. Now if you haven't seen this film, watch it for the stifmeister. American Pie is about the gang of 4 pretty loser high school buddies, losers in matters that include woman/girl, otherwise they were pretty cool.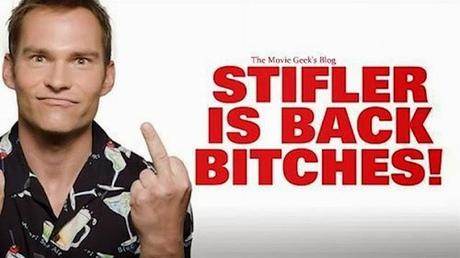 When I will write about the most loved characters in Cinema, Stifler will certainly make the top 5.
The directors Paul and Chris Weitz made sure that every character is equally hilarious and important in their own way. So if you ask people who their favorite American Pie character was, they will all come up with different answers. Jim was the lead according to many, while many believes that American Pie is all about Stifler.
This is a funny film which is immensely enjoyable and have some really hilarious dialogues by everyone. Most high school sex comedies ends up being the pursuit of the most obvious element that is getting laid but this one is different.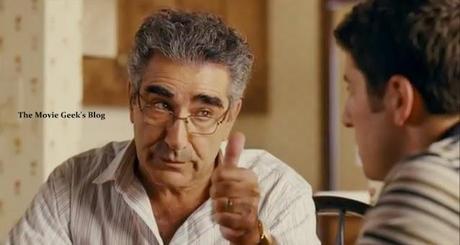 Noah Levenstein and Jim Levenstein, having the "hilariously awkward father-son" moment.
I'd say even if you get offended by Sex Comedies, I will still recommend this film to you because there is much more to American Pie than being just another Sex comedy. Try to ignore the offensive parts and understand the sarcasm, it has some really genius humor there. It is a gem in the comedy genre of Cinema.
You gotta taste the first piece of this Pie.
Movie Geek's Ratings: 8/10
Cast: Jason Biggs, Alyson Hannigan, Eddie Kaye Thomas, Seann William Scott, Eugene Levy.
Directed by: Paul Weitz, Chris Weitz
-------------------------
Author: Amrit Rukhaiyaar