Cast: Ulrich Mühe, Martina Gedeck, Sebastian Koch
Directed by: Florian Henckel von Donnersmarck
Genre: Drama, Thriller
A Guest Review by Nafees Ahmed
Reviewer's Rating: ★★★★½
The plot of 'The Lives of others' at its outset, may seem very familiar to psychological surveillance drama , "The Conversation" directed by Francis Ford Coppola, where lead protagonist of both the movies sit around the clock with headset clamped over their ears, stone faced, expressionless and surveying a romantic couple.  But the similarity ends here, and 'The Lives of Others' slips into psyche of three principle characters who are struggling to live a normal life and honestly peruse their career and aspiration with no restriction, midst of all the chaos during 1984 Cold War, at Berlin Wall.
This dark and gloomy drama about three struggling souls, written and directed by first-timer Florian Henckel von Donnersmarck, was a deserving winner of 2006 Academy Award for Best Foreign Language Film. The Lives of others tries to examine the human nature and subtle love that somewhere beneath never blossoms, during the tragic struggling phase of exploiters and exploited people. The Stasi, the GDR's secret police, whose had vast network of informants( 2% of the entire civilian population was on the payroll during 1984), were sinister exploiters who never shy to bug the house of suspects and exploit their personal life.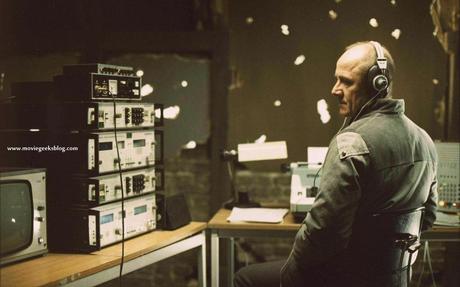 Ulrich Mühe in The Lives of Others [2006] 
Minister of Culture Bruno Hempf seizes an opportunity to take an undue advantage of vulnerable Actress Christa-Maria Sieland whose Playwright boyfriend Dreyman is under suspicion after he escaped state scrutiny due to his pro-Communist views and international recognition. While Stasi Captain, Gerd Wiesler, starts his surveillance by bugging Dreyman's apartment, sooner he realizes that he himself is a part of more sinister plan that involves  personal gain.
Film is about two honest individual who are disillusioned at the way they see their society and their own personal life .One of the focal points here deals with the issue of an honest man who takes his job religiously, but how possibly he reacts to circumstances that ask him to deflect his own path of an honest and righteous being.
But sooner Wiesler sympathizes with Dreyman and Christa's exploited artistic and personal life, and ultimately he jeopardizes his own career. At the other end, handsome Dreyman is passionate about his work and passionately in love with his beautiful girlfriend; oblivious to the fact that his apartment is under surveillance. Character of Dreyman is flawed but good guy who has earned himself name among theater people & GDR, and seeks removal of culpable theatrical colleagues from the blacklist, and who ends up writing a sensational article for the western press.
The Lives Of Others is highly compelling political thriller that horrifically thrives on backdrop of Berlin Wall, East Germany; it is profoundly emotional film that has ability to shatter you. It is powerful film that is perfectly constructed blending human drama, romance and thriller that is devoid of any ho-hums and cliché, twists are unpredictable and never seem forced while climax will definitely give lump in your throat.