Kickstarting my Singapore experiences I dropped my bag at my Chic Capsule Otel in the heart of the city's own Chinatown! Landing several hours earlier than originally planned, I wasn't mad because those extra hours added onto my first day in Singapore. Dog tired but the adrenaline helped me get acquainted with Singapore's Chinatown! Yes S, I was read to see it all!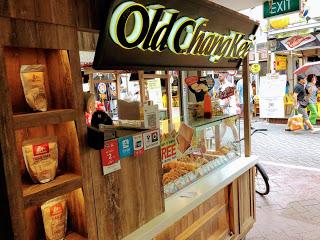 Being honest I really wanted to try Old Chang Kee's famous Curry'o after walking past their Chinatown, London bakery without paying it any mind, that was an opportunity shelved for the real thing! Singapore's Chinatown had an abundance of free wifi, making the right connections my iPhone GPS took me to the Old Chang Kee stand. My midnight airport pick up and pre-dawn departure had left me feeling less than energetic, ordering two Curry'o pastries had to be done regardless of my tiredness! Taking a seat within their revamped restaurant the humidity had got me and it had got me badly, I was practically melting! Feeling some kind of way, I tasted the obvious curry flavor but the pastry satisfied my tastebuds immediately, feeling like I was eating a Greggs bake I did! Why had I not paid Old Chang Kee any mind during my Chinatown, London visits? Yes S, I had made a very wise decision, staying Singapore's Chinatown felt right! 
Returning to my capsule hostel had to be done, I was dead beat tired and in desperate need of a nap. Thankfully I was allowed to check-in, with my forward thinking I had paid ahead of time to avoid the same confusion that took place in Dalian two weeks previously. Being an ex-British colony, all the Singaporean hostel staff spoke English perfectly, one reason why I chose to visit Singapore. Opting for a capsule bunk within a ten bed dorm, I was firstly quite apprehensive because I hoped the online photos of the room actually represented the real life result. My reasonably priced dorm room was worth the money and comfortable for me to sleep, Singapore's hotels were no joke during the booking process because the prices were sky high! Taking a little nap, I needed to recharge my batteries for the shenanigans that would take place that afternoon. Compact and conveniently located I planned ahead of time, reading the streets bilingual names I didn't have any mobile data in Singapore.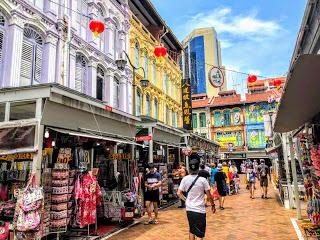 The colourful shop fronts presented me with such a vibrant view of Singapore's Chinatown. Refreshed from my nap I was finally able to soak in the atmosphere with a level of consciousness. I wasn't attracted towards the gifts shops, the high cost of everything altered me that I had to be careful spending too much of my money. The food was another story, I was looking forward to trying some of the famous satay skewers but that was for another day and time. I loved that the Chinatown was concentrated around a couple of streets that all connected with each other, finding the Buddha Tooth Relic Buddhist Temple after a chance turning felt like I was winning until I was told my attire wasn't suitable, my gray H&M vest wasn't certified. I would try my luck once again before my A380 flight back to Beijing, China. I appreciated Chinatown's vibe, it still gave me a sense of my second home but with English widely spoken! 
One place in S'pore wasn't hard to find at all! So, as my first evening drew closer, I found a certain establishment that I had been intending to find. After careful research I knew there was no going back, I knew there was going to be a lot to enjoy whilst I was in the locality. Diversity, Singapore's wide array of cultures and nationalities impressed me much, it was something that I ensured attention was paid within the said venue along Pagoda Street. If I divulged such details of those Chinatown secret visits then I'd have to call the law, straight up! Keeping the those best secrets very safe, Singapore showed me some sights and situations within that said venue. Compared with my other East Asian escapades I didn't make the same mistakes, read between the lines. After spending a few days in Chinatown, it was evident that Singapore's got one of the best Chinatown's in the world! Shady places with a whole lot more on offer, it was a rich week in many ways! I should try Malaysia!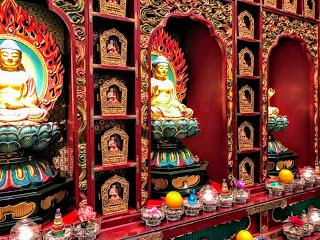 Waking up to my second day in Singapore, I planned to visit Little India and Kampong Glam. Before I boarded the MTR to reach those equally colourful neighbourhoods, I decided to try my luck a second time to see Chinatown's Buddha Tooth Relic Temple. Opting for a simple t-shirt I able to walk freely into the temple without breeching the dress code policy. I usually don't take photos inside temples unless they are permitted because respect has to be observed in places of worship no matter the religious conviction people hold or not, that's my view anyway! Shimmering with gold and red tones, I saw an endless wall of god like statues, I didn't know what god was featured within the rich design of that temple wall shrine. The monks were reading a sermon from their chosen book, I didn't understand the language but it was so amazing to hear and to witness the goings on within the temple. S, it was amazing!  
The area surrounding Singapore's Buddha Tooth Relic Temple reminded me of Hong Kong with the elders playing mahjong and the Chinatown Complex giving me sense of the ex-British colony fusion vibe. Needless to say the new build temple impressed me much! After returning from my Little India and Kampong Glam day of exploration I took the MTR back to Chinatown, getting around the city state by MTR was an absolute pleasure. Considering it was the Chinese Golden Week the flow of people both local and visiting passed each other by seamlessly. The transfers between the MTR from Changi Airport to Chinatown breezed past, I had never seen such a clean and orderly transportation system before that Golden Week holiday! Returning to Chinatown that day allowed me to find those skewers at the Chinatown food street, they were just amazing! On the final night I went back for more to find the drinks stall sold Bulmer's Cider! There's no place like home? Who said that? Oh, Dorothy!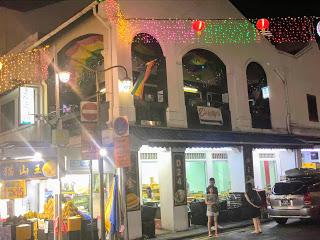 After my visit to that said Pagoda Street venue I went for some food before taking a chance on Dorothy's. Being a Monday night I didn't have any expectations, also being on my 20th hour or something stupid I saw a drink or two as the perfect livener. Greeted by rainbows and a life-size cut out of Judy Garland as Dorothy from the Wizard of Oz, I felt right at home! Changing my beer for a Pina Colada I got talking to Rob, the owner of Dorothy's, also a Brit living in Asia he told me some amusing stories about the bar and expat life in Singapore. Jimmy, the barman made sure I had a drink filled to the top of the glass, those Pina Colada's were definitely flowing nicely! I tried my very first Singapore Sling at Dorothy's as I was advised the Long Bar wasn't the only place to mix the city states signature cocktail. Following Chinatown's own 'yellow brick road' I found myself back at Dorothy's sipping another few cocktails. Yes S, rainbows! 
I met some really nice guys during my time at Dorothy's, to have an actual conversation was so refreshing. In Beijing for me it sometimes get hectic in the rainbow venues because those queens can be damn shady, whereas in Singapore at Dorothy's people were approachable and it wasn't difficult to strike up a conversation that didn't involve justification of ones nationality and reason for residing in said country. Drama free, it was nice to not see people glued to their phones as they are back in a certain land. Heading out from Dorothy's after it closed its bar on the Wednesday night allowed me to see Backstage and May Wongs Cafe, I found cider and the Malay barman was absolutely gorgeous! People were just so friendly, it shocked me quite a bit! Dorothy's was definitely a surprise find that added to my uniquely Singaporean Chinatown experience! Chinatown, Singapore showed me the sights both during the day then night, I lived for the food but there's really no place like home! Bye!
Chinatown, Singapore Style! 
Joseph Harrison