Oh my gosh guys. I have the best…
gluten free
dairy free
probably paleo
veggie packed
clean eating meal
…ever!
I'll give you a teeny tiny taste.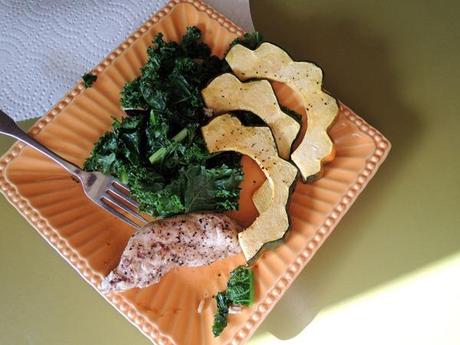 Okay… but before we get to that, there's a whole day of eats and fitness to cover. Let's do it super duper quick.
Lunch & Snack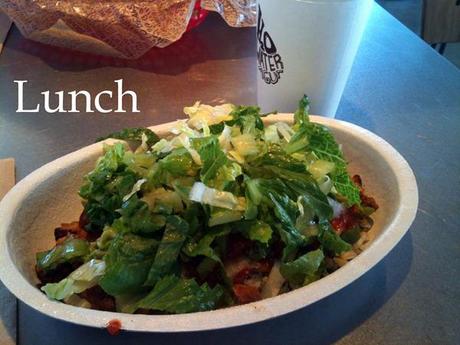 Chipotle was on the menu. I had a chicken bowl with brown rice (splurge), chicken, fajita veggies, guac., hot & medium salsa, lettuce.
Then while I was at work I enjoyed a huge and nutritious snack.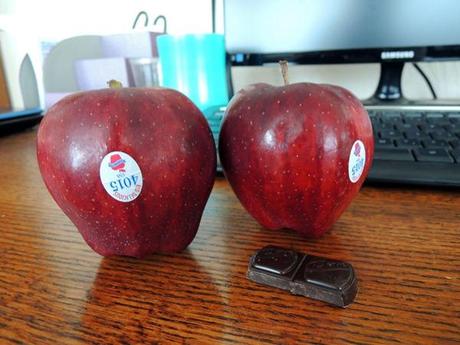 2 red delicious apples and a tiny bite of dark chocolate.
Smiles.
Fitness
after work I hit the gym… hard core!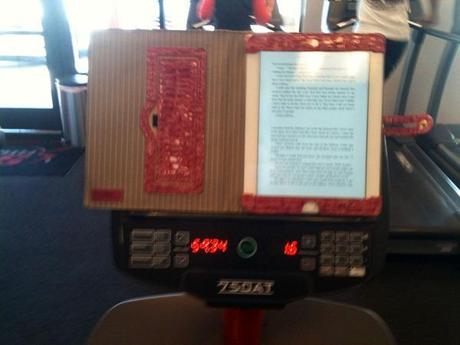 First I did 55 minutes on the elliptical for exactly 700 burnt calories. Then I did my…
M-Wod
30 squats
20 leg lifts on each side
do the round 4 times.
Then I did 50 crunches, 30 oblique crunches (per side), and 20 low crunches aka leg lifts.
Now it's time for dinner.
Moroccan Chicken with Acorn Squash and Kale.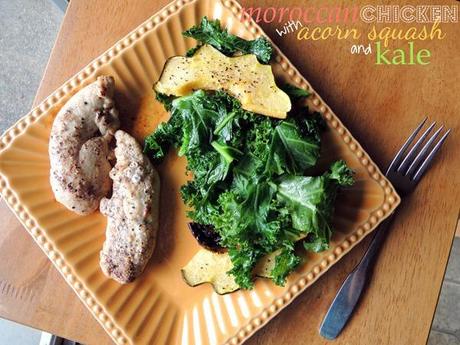 This recipe is from Real Simple Magazine | serves: 4 | Takes: 30 minutes | is 450 calories a serving
Ingredients
1 large acorn squash, halved, seeded and sliced 1/2 inch thick
3 TBSP olive oil
salt and pepper
4 boneless and skinless chicken breasts
1/2 tsp ground coriander
1/4 tsp ground ginger
1/8 tsp ground cinnamon
1 bunch kale, torn and stocks removed
1/2 cup pitted prunes
2 cloves garlic, crushed
Directions
First, heat the oven to 450 degrees. Put the sliced acorn squash onto a pan (I lined mine with foil for easy clean up) then toss in evoo and top with salt and pepper to taste. Put pan in the oven and roast for about 20 minutes.
While the squash roasts, heat 1 tbsp olive oil in a pan on medium-high. Rub chicken with coriander, ginger, cinnamon, and salt/pepper. Cook until cooked through, about 10 minutes per side. Once cooked, transfer to a plate.
Heat the last TBSP olive oil in a large pan, crush cloves of garlic into the oil and cook for about 30 seconds. Add kale and prunes toss so the kale is covered in olive oil. Cover and cook until kale is wilted, about 5 minutes. Serve kale and prune veggies with acorn squash slices and chicken.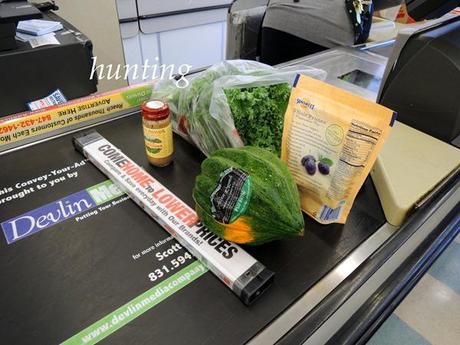 After my workout I went by the grocery store for a few key items on my ingredient list…
I was successful.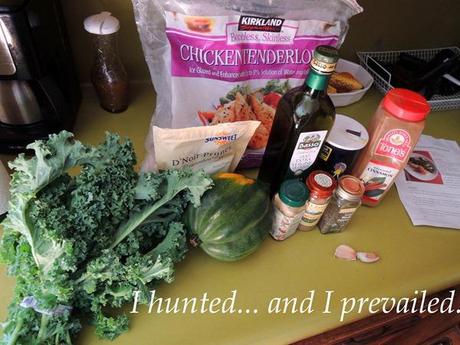 The acorn squash was exactly like a pumpkin inside! Loved it.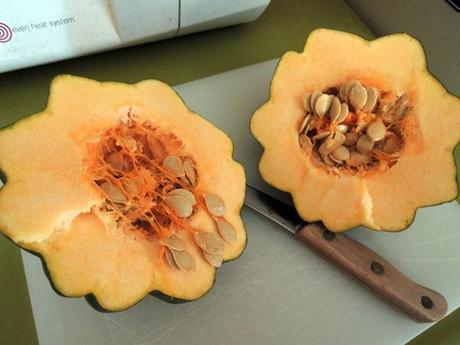 My Mom, my Brother and I all enjoyed this meal. Like… a lot!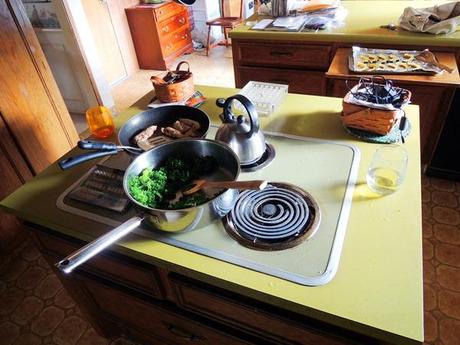 I wish there were leftovers.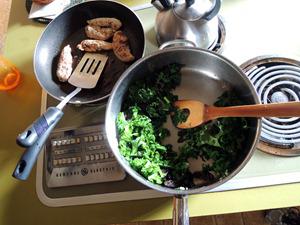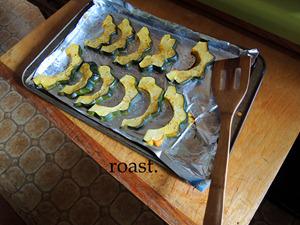 But there are NONE! Not a leaf of kale or a sphere of squash. Nothing.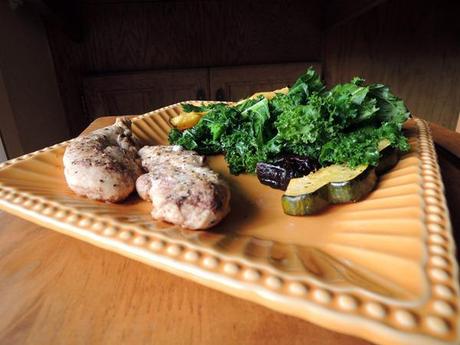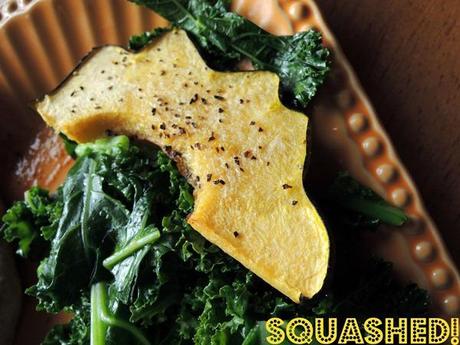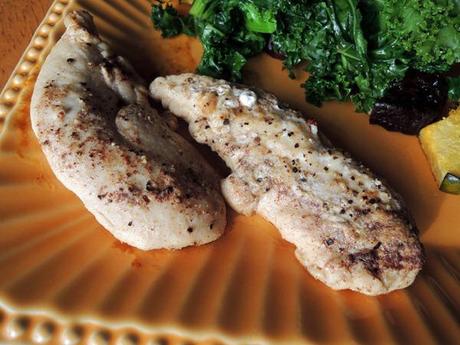 I have to come clean and admit… there's no leftovers because I had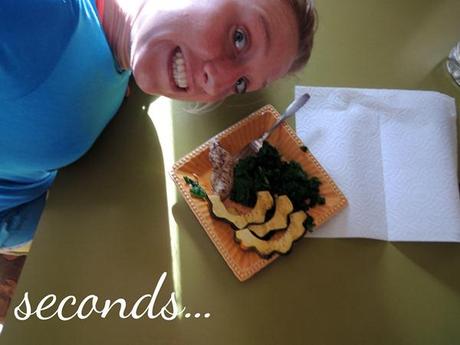 It was just too good! I couldn't help myself.
Clean Eating Progress.
Everything is going awesome. I think my intestines are getting happier but I'm not 100% sure yet. I don't feel all awesome yet. I didn't feel too lethargic today from sugar/carb detox. I'm hoping that that means I kept everything in moderation enough in the last month that my body doesn't have to detox. Eeee, that would be exciting.
I'm realizing I was totally following most of my clean eating rules during meals. But it's the snacks that get so much more nutritious and healthy when I stick to my clean eating guns. I snacked on apples today and a tiny piece of chocolate. I definitely would have had 2 bowls of pretzels if I wasn't eating clean.
Love all your comments guys! I couldn't do it without you.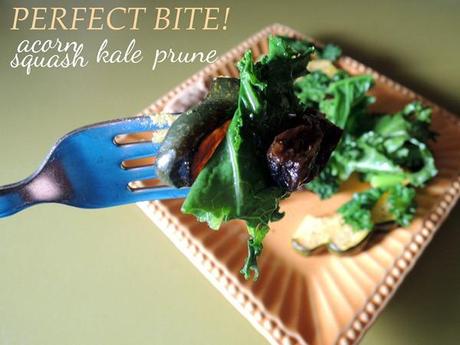 I hope you love the recipe!!!! It's drool worthy.