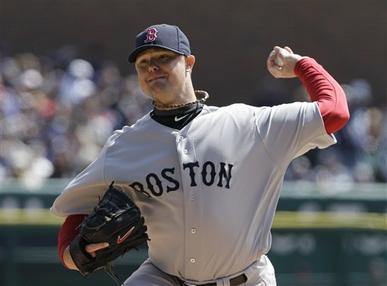 It was Opening Day in Detroit for the Red Sox, and a matchup of two of the game's best pitchers was on tap: Jon Lester vs. Justin Verlander.
They did not disappoint.
The game was scoreless until the seventh, when Detroit finally broke through, on back-to-back doubles off Lester. Jon was very impressive: he allowed just one run, six hits, three walks and four strikeouts.
But Verlander was even better. The Sox got only two hits off him in eight innings. Detroit scored another run in the eighth, and turned to Jose Valverde, their wild man closer who was perfect in 49 save opportunities. (I wondered if the Tigers hadn't scored that run would Verlander still have been in?) I thought the Sox best opportunity was getting Verlander out of the game, and they tagged Valverde for two runs, including Ryan Sweeney's two-out, two-strike RBI triple that tied it. (I said to a friend when Valverde came in that I had a good feeling and he was due for a blown save.)
But the Red Sox pen let them down in the bottom of the ninth, as Mark Melancon put two on with one out, and Bobby Valentine turned to interim closer Alfredo Aceves to bail him out. Aceves hit the first batter he faced, and Austin Jackson won it with a single to left.
A great ninth inning comeback down the drain.
The Sox showed lots of heart coming back after Verlander was a buzzsaw all game long.
A lot of good things to take away from the opener. (The bullpen isn't one of them. But it's just the first game.)
Josh Beckett takes on Doug Fister in Game 2 of 2012 on Saturday. The game will be on Fox, and thankfully it will be broadcast here in New York.