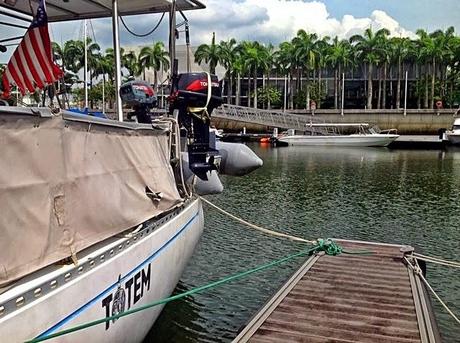 Our first cruising boat was a Hallberg-Rassy 352 named for the co-owner. "Andrea" didn't mean anything to us, and we were eager to have a new name put a personal stamp on his boat that reflected our family.
Deliberations focused on avoiding common names, especially the common, the clichés (Second Wind), and the cutesy marine alliterations (Plan Sea). Ultimately, we put Mau Ke Mana on the stern. This Indonesian phrase is a common greeting I learned living in Bali many years ago, and literally translates as "where do you want to go?" This comes, of course, with a standard response: "jalan jalan," or, "just walking." Presto, perfect dinghy name! We were building up to the cruising life and thinking about where we wanted to go, so the name felt right with its nod to our past and our future.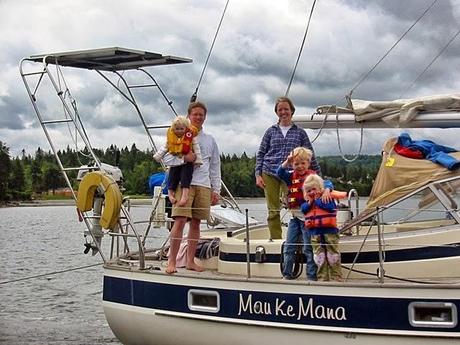 We used to say that Mau Ke Mana was our practice boat for the transition from racers to cruisers: this was the boat that would help us learn new systems, and how to adjust our priorities and aesthetics to reflect our plans to live and travel afloat. Thank goodness for a practice run on the boat name, because we made some serious errors: Mau Ke Mana broke a few important rules we hadn't considered.
People struggled to pronounce it. This made it difficult for us to be understood on the radio, and more challenging to be hailed by a boat that only saw or heard the name in passing. If we ever need to hail other stations for an emergency, I don't want any misunderstanding about the name of the boat requesting assistance!
Besides being hard to say or recognize, nobody knew what it meant. Because it wasn't easy to explain, it also wasn't easy for others to remember. In the cruising community, nobody knows us as the Giffords. We are the Totems. When you are known not by your family name but by your boat name, it's really nto a good idea to choose one that's hard to remember or pronounce. You would think that having spent a lifetime with a name that requires spelling or pronouncing for every new person I meet that this might have occurred to me sooner.
When we bought our Stevens 47 a few years later, she was named Don't Look Back, encapsulating the prior owner's departure from a marriage and the USA. I liked the idea of sailing into the sunset, but the divorce baggage had no place on our floating home, and it was too long anyway. Time for another name! This would be at least her fourth, since we found 'Menagerie' and 'Sirius' in the boat's paperwork as well.
This time, we thought more carefully about what would be short, simple, easily understood, and readily pronounced (including by non-English speakers). It's easiest to make the legal change of a boat's name during a purchase transaction, so we were under a crunch to come up with one in the early weeks of 2006.
One afternoon, Jamie called me from work and just said: "I've got it!" As soon as he said Totem, it felt right. It was succinct. It was easy to say. Most importantly of all, it felt meaningful: Totem would look out for us, just as totem spirits do from native traditions in our home waters of the Salish Sea. It was rooted in where we were from, and would take us where we wanted to go. Done. Our new home, the vessel of our hopes and dreams, would be named Totem.
A quick search of boat names in the registry of USCG documented boats only showed a couple of others with 'Totem' in the name, and they were fishing boats in Alaska. We didn't need the clincher, but it reinforced the choice for our boat name, our new family name. Ultimately, it's that personal connection that has to feel right- whatever rules you decide to follow or ignore.
Curious about totem's Haida-style orca logo? see this blog post if you're curious about Totem's totem, designed for us by our friend- and former cruising kid- Korum Bischoff.