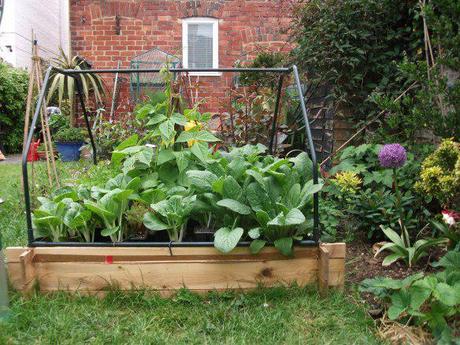 Raised bed - 9 May 2011. Ooops looks like I should have mowed the grass before I took this pic.
In March I wrote about my new raised bed and sent out an SOS because it stood out like an alien in the garden.  I thought I would provide an update on its progress.
The wood that was so bright, so yellow and so new has, fortunately,  matured a little, and it's blending in with its surroundings.   No longer do the neighbours, when looking out of their upstairs windows, ask  "What is it you have in your garden?".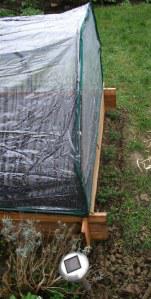 Raised bed cover
I bought a little plastic raised bed cover, so effectively, my vegetable seedlings have been growing in a semi-greenhouse.  Lately, because of the great April weather, I have unzipped the cover during the day and tucked them back into their plastic environment at night.   It has served me well, because I now have very lush looking vegetable plants.
I don't and never have proclaimed to be knowledgeable about growing vegetables.   I have only been growing vegetables for one year.  Last year, they were in pots up against the house wall facing South, an area that is best described as a microclimate.  I bought one or two established,  baby plants and had several others donated. I grew  two tomoto plants, three mange tout, one dwarf runner bean, one courgette plant and a chilli.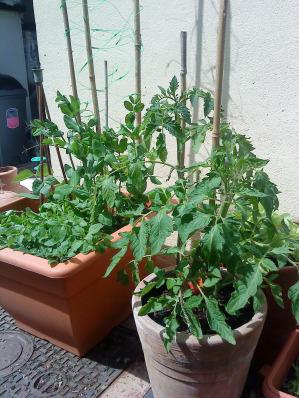 My Apotment May 2010
My apotment - July 2010
After preparing the bed, I sectioned it into 9 squares with string.  Great idea, I thought, misguidedly, I can sow different crops in each square with runner beans in the middle.  I put Pak Choi, spinach,  borage and broccoli around the edge, with a few empty squares for later planting.
Valuable tip 1 : -  Whatever you read on the back of seed packets, follow it.  They really do mean what they say.
I fell into the trap of sowing more seeds than needed and recommended.   I suppose I was thinking not all would germinate and anyway it would be fun to have a veg bed packed full of good food for the Summer.
Valuable tip 2: A one metre square raised bed is NOT an allotment.
Hindsight is a great thing.   I should have divided it into 6 and more sensibly 4 squares, not 9.  How rediculous can you get!
I don't know about you, but I have an aversion to thinning out seedlings.  They are living, growing, little vegetables and I hate throwing them on to the compost heap, it makes me feel uncomfortable and cruel.
The pak choi have been thinned out, and the larger ones given away; they now take up two of the squares.  The broccoli has also been thinned out,  I think probably only 2 should remain in situ, so more will have to go.   I cut fresh baby leaf spinach and bag it for the girls at work, although it does seem to be growing faster than I can chop it.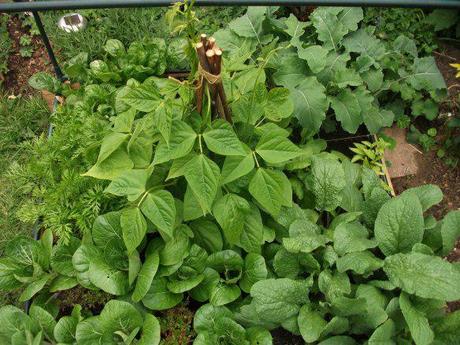 Mixed Vegetables
As for the carrots, I have read so much about Carrot Fly I am getting paranoid and scared stiff of pulling some out, in case a squadron of them arrive, and dive bomb my precious crop.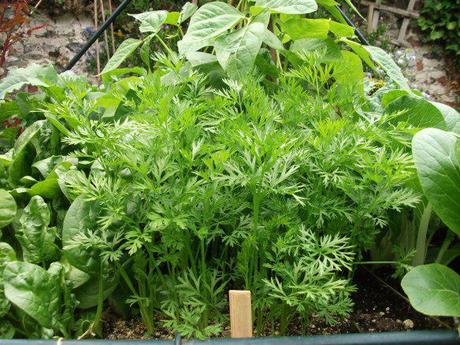 Not much room between my carrots
No guesses as to what is on my "jobs to do" list for the weekend.   A spot of serious thinning out, but now they are more than seedlings, I hope that I can pot the individual plants up and sell them at the next Fete at my Mum's care home.
Therefore the valuable lessons I have learnt are:-
(a)  Read the packet and take serious note of what it says.  Seeds don't all have to be sown at the same time, they will keep until next year.
(b) Don't be too ambitious, two or three vegetables will be quite enough to start with.
(c) It's ok, even with a raised bed to use pots too, they were very successful for me last year and one plant per pot prevents over crowding.